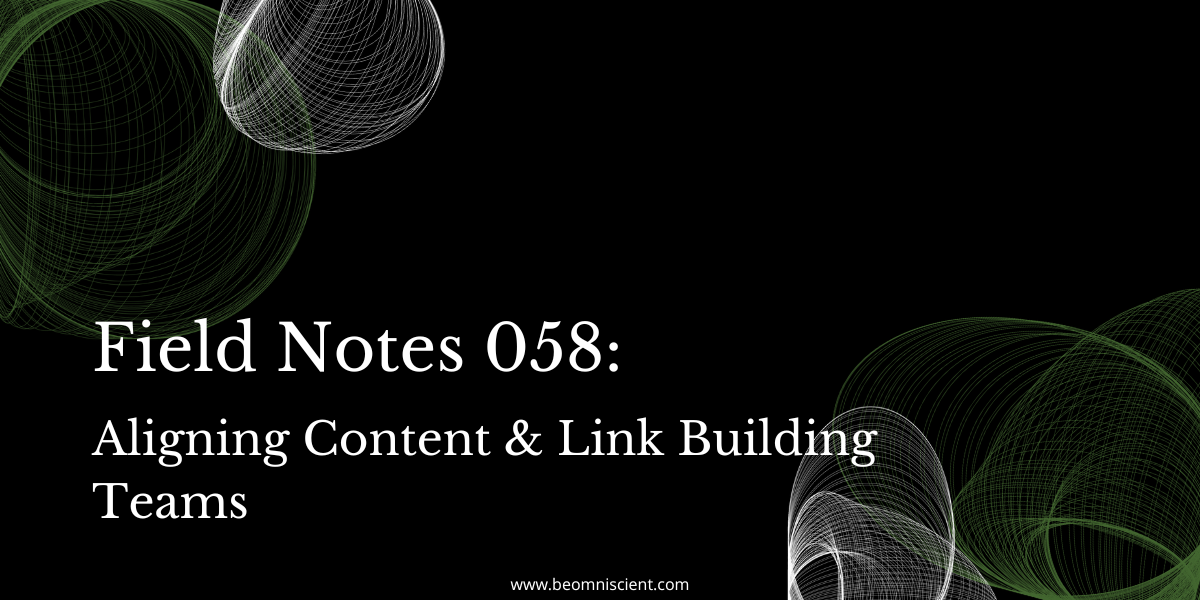 Backlinks are one of the core building blocks of a solid SEO campaign. Although many people assume that building links and creating content are two different work streams, the reality is that they are stronger when they work together.
Content is more than a one-trick pony. Although many times content is created with one campaign or team in mind, truly valuable content is useful across teams and channels.
When content and link-building teams are unconnected, both parties miss out on the opportunity to create truly valuable content. And when those opportunities are missed, it can cost the entire organization in the long run.
Content creation should include inputs from all teams and channels that might use it. Before content development campaigns kick off, make sure that everyone is clear on the expected uses of content. Once aligned, you're much more likely to make worthwhile, powerful content.
How are links built?
There are plenty of ways to build links. However, the common thread among most of them is content.
Link building is typically conducted for websites that already exist and have content assets. A link builder might assess the existing site, identify content that appears to have high linkability and use those targeted pieces of content in their outreach campaigns.
On the other side, content campaigns typically start with the creation of new or edited content. This typically focuses more on desired goals rather than what currently exists.
Collaboration between link-building and content teams builds trust. Getting the chance to talk out challenges, learn more about each campaign need, and understand priorities keeps workflows aligned and prioritized. It's also generally more enjoyable to work on large-scale challenges together.
Of course, collaboration isn't always possible. Campaigns or channel needs may be too different to combine together into a single content piece. But if you have any chance to knock two birds with one stone, combining goals as much as possible can lead to a higher ROI on each piece of content you create.
How to align content and link-building
Alignment starts from the very beginning. Before kicking off a campaign, set time aside for your two teams to connect. If one person handles both content development and link building, compare the two separate campaigns to identify areas where they could blend together.
Establish the basics of what the two campaigns or engagements might entail:
Set clear goals
Understand priorities
Define timelines
Choose what metrics to measure
It's also important to leave a clear space to leave feedback. This ensures every channel or team member has a fair say in the content.
What are some of the insights you might find from this first connection?
Experienced link builders know the topics and content types that attract links. Shoo-in content includes:
Educational or informative topics
Infographics or image-heavy content
Long-form guides
Resource directories
First-hand research
If a content campaign's goal is to speak to an experienced audience, your content strategy may initially focus on creating content that targets long-tailed keywords with low monthly search volume that speaks to a significantly smaller audience. These types of topics can be more difficult to build links to.
Sometimes, it's easy to get lost in understanding an audience as opposed to picking out topics that are going to get SEO results. This is why alignment is so important. Once aligned, your teams will end with a powerful shared strategy that will move everyone closer to the shared goal easier.
Build your strategy
The one thing link builders and Google have in common? They love high-quality content.
Content strategy involves assessing your existing content, ideating content to fill gaps, and building a content calendar. Strategies determine the content types, topics, and publishing cadence. Luckily, some topics and content types are naturally passive linkbait.
High-quality content includes content that follows E-E-A-T (Experience, Expertise, Authority, and trust signals). Content that will reap both backlink and user engagement rewards is expertly written, builds trust with readers, and answers questions they both know and don't know they need an answer to.
Monitor over time
Collaboration does stop once the campaign kicks off.
Plan on meeting or reviewing the campaigns regularly. This helps identify wins, losses, and areas of opportunity.
And, of course, keep an eye on backlinks. Although it's easy to default to impressions, keyword rankings, and clicks as the primary indicators of success, backlinks can also be a powerful indicator of what content is a success.
Content made for link building can be more than just a grab for keywords. Work together to find the right balance of SEO-driven content and work tailored for other campaigns.
The end result?
Content that's successful for both content marketing and link development!
That means that your content helps build backlinks by attracting users, conveys messaging clearly and in a way speaks to target audiences, and maybe even brings in more keyword rankings.
When all teams row in the same direction, everyone reaches the goal faster. You're going to have much more powerful, higher-performing marketing assets than you could have ever dreamed of.
Want more insights like this? Connect with me on LinkedIn.
Recommended Reads
Good reads on turning content into a growth channel.
GA4 Reports Builder For Google Analytics Extension Available – Learn about the latest GA4 extension that allows you to build report in Google Sheets!
Is it really Brand vs. Performance Marketing? – Brand vs performance marketing – which do you prefer?
Field Notes #53: The Best Way to Measure Content Program Success 🔥 – Explore other ways of measuring content success.