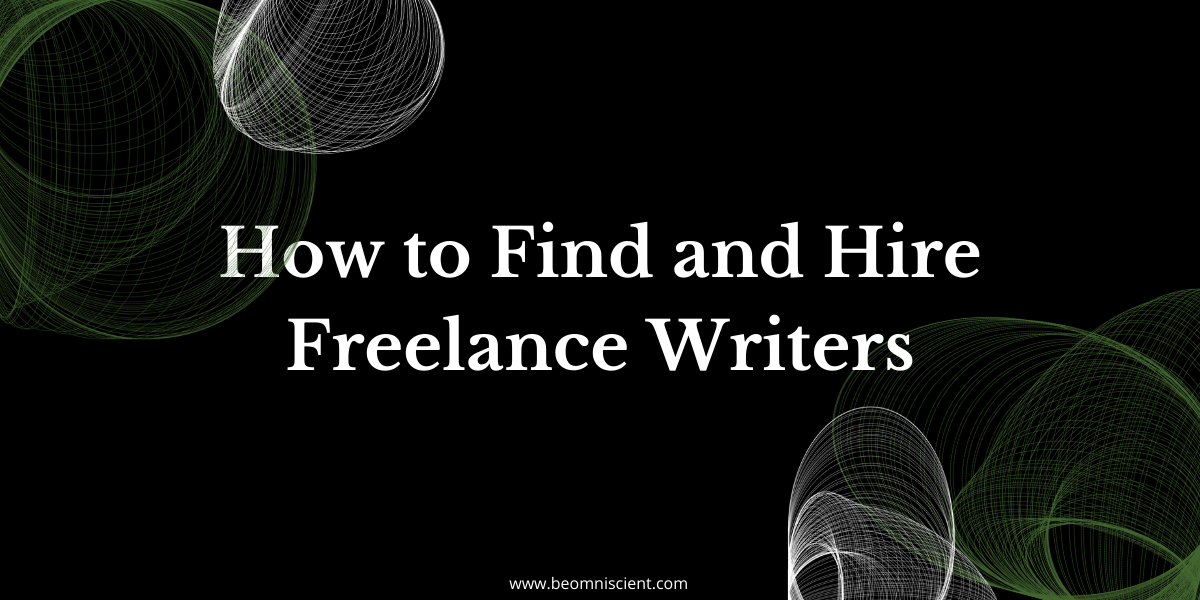 "If you think hiring good writers is expensive, wait until you hire cheap ones."
If you're serious about content marketing, you've likely looked into hiring freelance writers to help you supercharge your production.
If you've looked into hiring freelance writers to supercharge your content production, it's almost certain you've run into trouble, frustrations, and potentially wasted some money doing so.
This guide is the answer to that. We've taken our collective 15+ years of experience working in content marketing and with our agency clients of varying industries and have distilled it into two processes: the Writer Discovery Process and Onboarding Process.
The Anti-Upwork Approach: a Concierge Strategy to Onboarding Freelancers
If you're hiring freelancers for the first time, this process can be quite intimidating — especially when seeking out specialized content creators. But you'll see below that the majority of this process is about preparation.
The more you can prepare on your end, the better you can equip your writer to produce the best work possible.
Before you worry about finding a freelance writer, you should first thoroughly understand what you need. In my experience, the top reason organizations aren't happy with outsourced content is because it doesn't accurately reflect their vision … a vision they may have failed to share with their writer or agency in the first place.
Content is Not a Place to Cut Corners
Repeat after me: Freelance writers are not mindreaders. Unfortunately, many organizations treat them as such, especially when they opt for the cheapest freelancer on UpWork or Fiverr and give them a vague assignment. In this case, it's no surprise that they usually receive bad results.
Hiring freelancers is a give and take: Outsourcing content brings a fresh perspective to your marketing, but it also results in a knowledge gap between your freelancer and your business. It's your job to fill it.
Here's the exact process we follow at Omniscient when hiring freelancers for client work and what we recommend you follow for your own Writer Discovery and Onboarding Processes:
Let's get started.
1. Get Your Sh*t Together
First, gather this information:
Your brand and/or style guidelines
Information about target audience(s) or buyer persona(s)
Important information and documentation about your products or services — beyond your website's product pages
Any onboarding or demo materials you share with new employees
Important content (gated offers, courses, etc.) to promote via links or CTAs
A list of any internal/external subject matter experts for interviews or questions
Your content strategy and/or keyword research
For this article, we're going to assume your writer is writing content for you — not also creating strategy.
Don't have a content strategy? You're in luck! Check out the top-notch course we created to help you develop a successful content strategy of your own.
An excellent freelance copywriter would ask for this information anyway, so it's best to have it handy. We'll use it here in a minute to build a solid onboarding deck.
2. Define Your Content Project Types and Topics
Next, jot down the content project(s) for which you're hiring.
Are you developing an e-book to collect emails? A whitepaper that explains a recent research study? A bunch of blog posts to populate your publication?
You may come up with new ideas once you meet and collaborate with your writer — that's OK. For now, decide on your preliminary content creation needs and goals so you can have an idea or two to discuss as you interview potential freelancers.
In those conversations (which we'll discuss later), you should be able to articulate 1) what content you want and 2) what you want it to do.
This process will also force you to understand the niche for which you're hiring. Is your e-book about cannabis marketing trends? Your whitepaper recapping a recent study on how remote work has impacted childcare? Your blog posts about financial literacy?
You wouldn't hire the same content writer to tackle all three projects, would you? Nope. Defining the type, topic, and goal of your project is critical as it will directly impact where you find your writers and how you vet them.
3. Create Your Onboarding Flow
When I was a freelance writer, I greatly appreciated clients who had their company and project information organized and prepared.
Sure, they were paying me to do the heavy lifting, but they also had the tools ready for me to get straight to work.
One key way to make life easier for your freelancer (i.e., help them do amazing work) is to create a coherent onboarding flow. We use a templatized deck in Google Slides and customize it for each client with which we're working.
Recall when I asked you to gather information in step one — this is when you'll use it. Some of this process will involve that information you've already gathered; some will require you to develop some new materials. But all of it will be valuable to your writer.
Here's what we include in our onboarding slide deck (and what we recommend for you):
A welcome slide with contact information
Legal and tax instructions, e.g., sign our Contractor Agreement and send over a W9
A breakdown of the list of the tools we use and why
Important information about the client with which they'll be working, including:

A style guide
Buyer personas and business pains
Product onboarding or demo materials
List of subject matter experts
List of competitors
List of desired CTAs
Examples of top-performing blog posts
Examples of admired competitor content

Links to our client content calendar on Asana and a sample content brief
Expectations around our writing submission and editing processes
Internal resources on the client's products or services
An explainer video about how to use Clearscope, our SEO tool
Our payment information
It's important to gather this information and documentation before you start searching for freelancers. This process will also likely help you get your team aligned and answer some questions you didn't even realize you had.
Download our Onboarding Deck Template here to create your own all-star onboarding experience.
Finally, most freelancers will ask for this information anyway, so having it in one place will do you both a big favor.
4. Start Your Freelancer Search
It's time to put all this planning into action. You'll see that, while much of this process can be templatized, the component of finding freelancers is quite manual. Until you build up a reliable base of freelancers, there's not a one-size-fits-all solution.
Also, depending on how many different niches and specializations for which you're hiring, it's likely you'll return to the proverbial drawing board many times.
In this section, I'm going to break down the many avenues through which you can source amazing freelancers. It's not an exhaustive list, but it's what has worked for me as a content manager and, previously, as a freelance writer.
We've done the work for you. Our Omniscient-Certified Writer Database features the best freelance writers we know, all of whom we've worked with and can personally vouch for.
Ask for a referral.
Ask for recommendations from a trusted friend, mentor, or fellow freelance writer. When I was a freelancer, I got most of my clients from referrals, and as a content manager, I always start with word-of-mouth recommendations.
Social media — namely Twitter, Facebook, and LinkedIn — is a good place to ask for referrals, although this may require more time to parse through messages and comments. One unique part of posting open projects online is that freelance writers have a chance to recommend themselves. While not every potential writer will fit your needs, this tactic will introduce you to new writers to add to your "On Deck" list.
See who bylined your favorite online content.
We've all read a blog post or article that resulted in that Whoa feeling. If you're looking to create the same experience on your own blog or publication, why not see who created some of your favorite, high-quality content? When I was freelance writing, I was contacted often by folks who'd seen and loved my work on Entrepreneur, Foundr, and HubSpot.
Don't fret if they work full-time for the company itself; many full-time content marketers also freelance, as long as you aren't a direct competitor of their employer.
Do a Google search.
Depending on what type of writer you're looking for, a Google search can either be helpful or land you in a big pile of generalized writers who've happened to optimize their website well enough to rank. However, it doesn't hurt to search using some keywords that describe your project, such as "cannabis freelance writers," "freelance writer specialty finance," or something along those lines. You may come across a diamond or two in the rough.
A Google search is typically my last resort, but it actually helped me find a fantastic writer for a recent client project. I searched for "[niche] freelance writer" plus a couple of different key terms.
This client was interested in highly specialized and technical content, and the project required extensive research and interviews. For that reason, I was looking for someone with particular experience and knowledge. Thankfully, I came across a Medium post authored by someone who identified himself as a writer within the niche I needed.
Honestly, this was pure happenstance. It doesn't often happen, which is why I don't usually rely on Google. In my case, the author wasn't even blogging about the topic I needed — he just happened to mention that he specialized in the topic itself. I couldn't believe my luck, and Google may deliver the same to you.
Visit Quora or Reddit.
If Google hadn't worked out for me, I would've turned to Quora or Reddit next. These platforms are goldmines of folks discussing specialized topics, and I would've browsed those who answered questions around the niche I needed. Sourcing writers using Quora and Reddit also gives me a chance to preview people's writing quality and style.
This step typically takes the most time, but if your project requires a certain niche, you can use the platforms' search functions to locate specific threads and questions.
Beware that many experts you come across on Quora or Reddit probably aren't writers. Some folks may identify themselves as a freelance writer or content marketer in their profile, but you may also find an answer you like from someone who doesn't necessarily provide writing services. This should stop you from at least reaching out, however. Perhaps you can convert them to a writer for the sake of your project.
5. Interview Your Shortlist
Once you locate and/or are referred to a writer, visit their website or portfolio. Read their writing samples in-depth — you'll get a sense of how they write long-form versus short-form content, and you'll be able to examine their writing skills and how much proofreading and editing they may require.
If they've claimed to be a subject matter expert in a niche or industry, find and review content that reflects that knowledge.
If you like what you've read, reach out. Most freelance writers have a website or online presence through which you can inquire about their work and rates and set up an intro call.
Be sure to read their websites thoroughly — some will post updates about their freelancing availability. Writers frequently book a month or two out, but most experienced writers are often busy (so that's a good sign).
If you found a writer that's a good fit for your project, it may be worth the wait. But how do you know if a freelancer is a good fit for your project? Interview them.
Here at Omniscient, we schedule a 30-minute chat to learn more about each writer and introduce our business model and client project.
Here's the script we recommend for that conversation:
This looks like it'd be a straightforward Q&A-type interview, but that's hardly how it goes. I like to start with the first question and see where the conversation flows from there. Freelancers will naturally answer some of these questions as they talk about their careers and previous work, and it's my job to incorporate the rest.
Note: If for some reason you can't align for a Zoom or phone call, consider asking for a Loom video of them answering your questions as well as links to some of their best work.
The curious thing about finding and vetting freelancers is that, in most cases, they didn't "apply" for the job. You're seeking them out. Sure, they're likely interested in landing new clients and getting new work, but it's just as crucial for you to sell your project and business as it is for them to sell their expertise.
How can you do this? For one, have your project information and onboarding deck organized and prepared. Be ready to receive as many questions as you ask.
Secondly, be incredibly candid about your budget, goals, and expectations. The more the freelancer knows upfront, the easier it will be for them to determine if they're a good fit.
Lastly, finetune your onboarding process — which we'll discuss next.
6. Hire and Onboard Your Writer(s)
Once you've chosen which writer(s) with whom you'd like to work, it's time to officially extend an offer.
I typically send an email inviting them to work with Omniscient and some information about the next steps. Here's what that email looks like:
I've created a separate Calendly event for those 15-minute onboarding calls and typically add this link in the email. During that time, I walk through the onboarding deck we discussed above and answer any initial questions. I've found that, while this does take more time than a quick email, it's the best way to get aligned with the new writers and confidently send them off on their first project.
So, that's our process for sourcing, vetting, and hiring freelance writers! While there are a few great lists of freelancers that you can reference when souring your own, I always recommend business owners create one from the ground up.
As you work with new and different writers (or receive new referrals), add them to a spreadsheet along with their typical rates and areas of expertise. Before you know it, you'll be able to quickly reference your list instead of starting this entire process from scratch.
Happy writing!