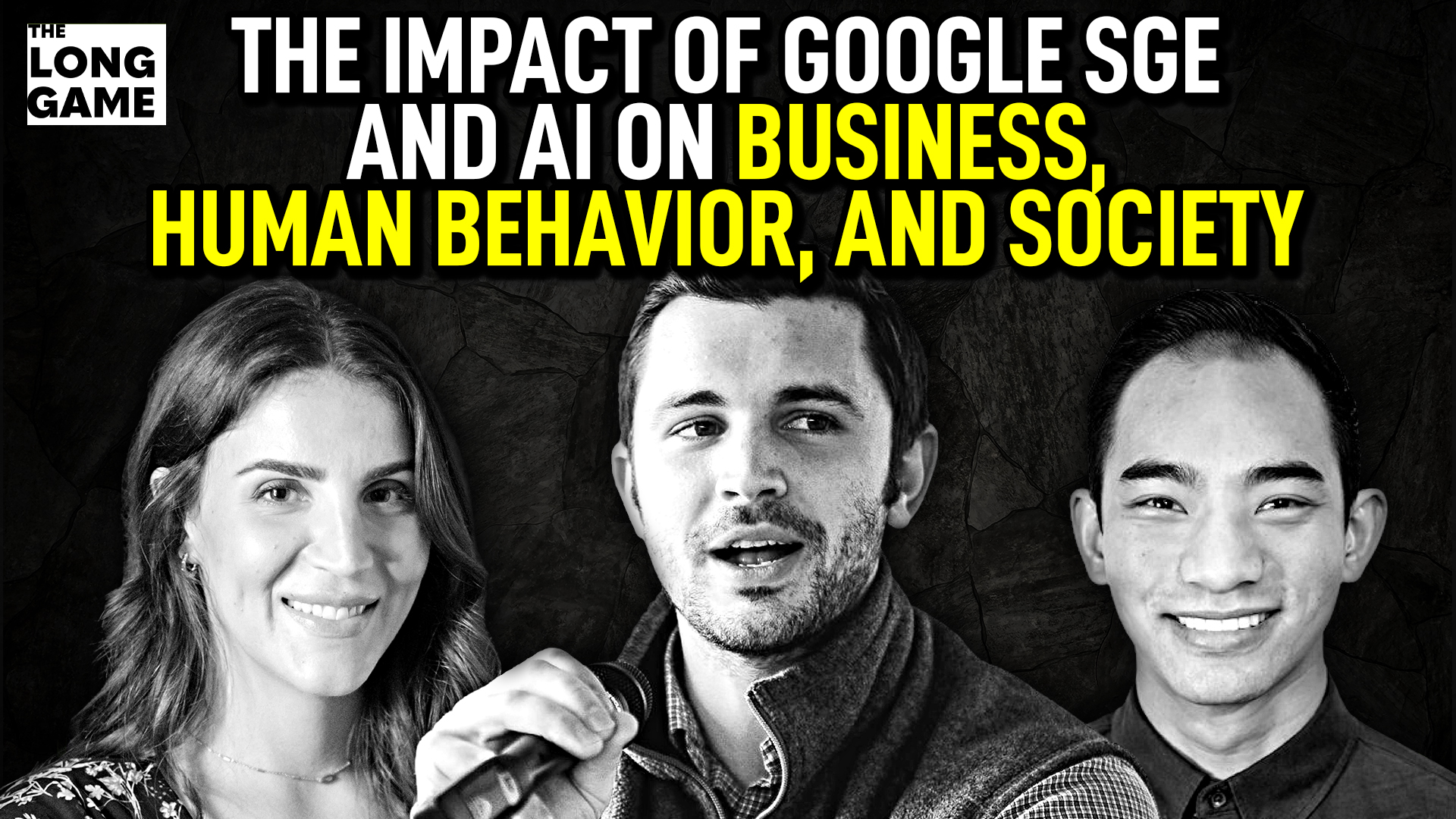 The marketing world is being impacted by AI advancements and the upcoming Google Search Generative Experience (SGE), prompting discussions on how to prepare and adapt without relying on speculative predictions. The rise of generalists in the business world may be a result of the increasing complexity and interconnectedness of technology and marketing.
In this episode of Kitchen Side, Alex Birkett, Allie Decker, and David Ly Khim discuss the possible effects of AI on marketing. The conversation highlighted the importance of not relying on speculative predictions but rather focusing on tangible plans and strategies to stay ahead of the curve.
The conversation recognized the importance of staying informed about AI advancements and their potential impact on the marketing world. They emphasized the need to adapt and update strategies as technology progresses, in order to remain competitive and effective in the industry.
They also explore the impact of the Internet and technology on social behavior and society, discussing the balance between convenience and friction in the ever-evolving digital landscape.
If you want to hear more about our conversation, make sure to tune in to the full episode.
Topics:
Speculation vs Preparedness
Diversifying Content
Google's Gen AI Results
Reducing Human Interaction
Content growth agency
Over-optimizing for a channel
Balancing Specialization and Humility
Exposure to Other People's Opinions
Marketing Leaders' Views on AI
Importance of Seeking Different Viewpoints
Show Links:
What is Kitchen Side?
One big benefit of running an agency or working at one is you get to see the "kitchen side" of many different businesses; their revenue, their operations, their automations, and their culture.
You understand how things look from the inside and how that differs from the outside.
You understand how the sausage is made.
As an agency ourselves, we're working both on growing our clients' businesses as well as our own. This podcast is one project, but we also blog, make videos, do sales, and have quite a robust portfolio of automations and hacks to run our business.
We want to take you behind the curtain, to the kitchen side of our business, to witness our brainstorms, discussions, and internal dialogues behind the public works that we ship.
Listen to the podcast:
Key Takeaways:
[00:13:59] Speculation vs Preparedness
The importance of being prepared for the new Google search feature, rather than making speculative decisions based on limited information.
[00:15:53] Diversifying Content
Importance of diversifying content and distribution channels for SEO.
[00:17:09] Google's Gen AI Results
Speculation on how Google's Gen AI results will summarize and surface solutions for B2B searchers.
[00:24:29] Reducing Human Interaction
Discuss the trend of reducing human interaction and increasing convenience, and how generative AI is fitting into that trend.
[00:32:08] Content growth agency
Their agency's approach to future-proofing their business is by building domain models and brand POV exercises to figure out what their brand actually says and cares about.
[00:36:40] Over-optimizing for a channel
How over-optimizing for a channel can have adverse effects, using the example of a LinkedIn marketing agency that optimized for the format of the channel but actually lowered results from a business perspective.
[00:44:29] Balancing Specialization and Humility
Discuss the importance of being open to learning from others and being effective in other parts of the business, while also protecting oneself from burnout.
[00:53:36] Exposure to Other People's Opinions
They discuss how they have adopted certain beliefs without questioning their origin and how social media can influence people's opinions.
[00:56:18] Marketing Leaders' Views on AI
Shares his conversations with other marketing leaders about AI and how it is not as threatening as it is portrayed on social media.
[00:57:51] Importance of Seeking Different Viewpoints
Talks about the importance of seeking diverse inputs and viewpoints from different people to triangulate and form a more realistic and rational opinion.
---
Get the Field Notes
Weekly learnings from working on B2B content & SEO for dozens of companies.