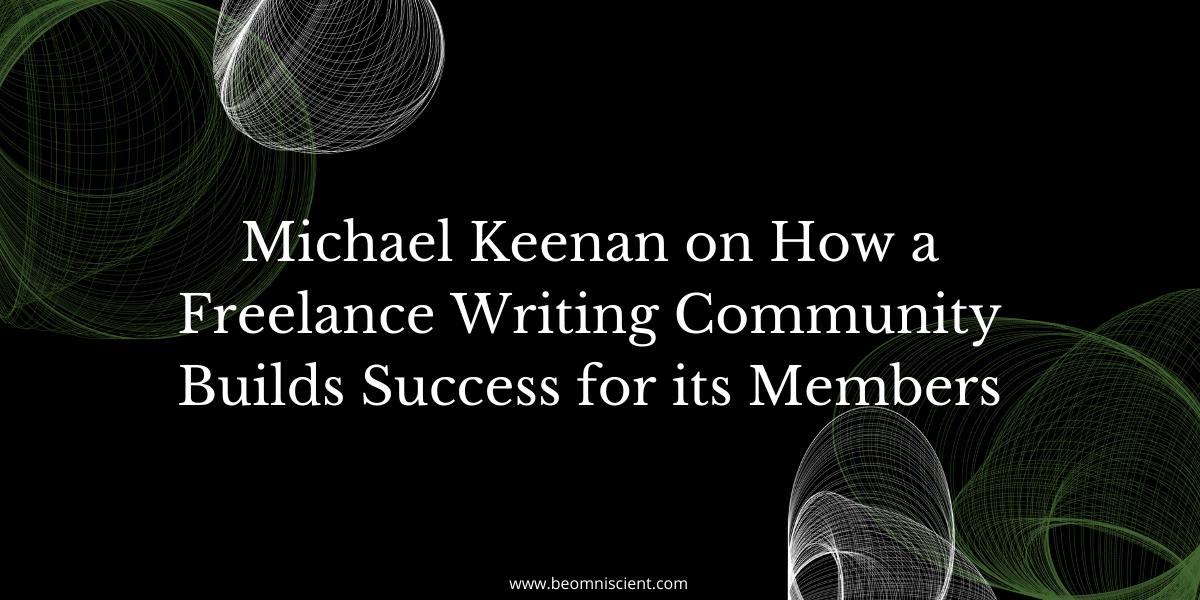 Freelancing can feel like a solitary sport most days – and many solopreneurs prefer that.
But like in any career, freelance writers need a network to grow and become more successful.
So how do you herd a bunch of cat-like freelancers and help them reach their business goals?
Michael Keenan of Peak Freelance told us how he's building a community that provides support, education, resources, job leads, and tools to freelance writers.
He also gave us his best tips for how freelancers can earn what they're worth.
Build community to build businesses
Peak Freelance focuses on freelancers who are at an intermediate or higher level in their careers.
They offer free courses and blog posts for beginners, but the paid membership is geared toward freelancers who are already in the midst of their careers and looking for community.
Michael said people who have been in the game for a few years have a lot to share with each other. They know where they were just a year ago and how they got to where they are now.
"You see a lot of interaction between those types of groups and even people who have been freelancing for eight, nine years," Michael said. "There's always something to learn from each other."
Peak Freelance isn't just there to help freelancers become better writers. The goal? To help them build a business.
A 50/50 split between jobs and support
The Peak Freelance community helps its members find new gigs. But just as important, it provides the confidence and support needed to get there.
On the job side, the community posts jobs on the website and in their Slack group. Members can also join a directory of freelance writers for hire.
On the support side, there is an abundance of resources, tools, and fellow freelancers ready to lift each other up.
"We've gotten messages saying thank you for the confidence," Michael said. "A lot of the messaging is telling people, 'of course you can do it! That's what we're here for.' We're here to support you. We're here to help you."
Keep your community personal
It's hard to keep a community intimate and supportive while also growing its membership.
But Michael said they're figuring out how to create that balance.
Peak Freelance doesn't have plans to cap the membership, but they've come up with other ways to keep it feeling small like a person limit on monthly town halls or online events.
"We just have plans to manage the scale, if it does scale, to still be able to provide that same value to the people who like that personalization and that warm feeling that people get inside of the group," Michael said.
They have plans to create micro-units within the larger group and they also arrange one-on-one calls between members.
"Members themselves chat with each other and get to know each other, which is something that people really love doing," he said.
Freelancers value resources
Peak Freelance promises people that they'll help grow their income, but that's not why many people remain members.
Sure, freelancers want more money. But they need support and resources just as much.
"We thought in the beginning, we're going to help you make more money," Michael said. "The assumption is that everyone always wants to make more money."
Yet, he noticed that people were making more money and still staying in the group. What members were praising in their interactions was the community and its resources.
"Now we're finding that it's more support and on-demand tools and resources," he said. "You can just go to the product section on your membership portal and you can find templates. You can find handbooks and checklists and things that you need to get your work done."
Don't rule out in-house gigs
Many of the jobs that the group has helped people get are in-house roles. In Michael's eyes, that's not a bad thing.
"There are a lot of really amazing in-house roles that are very valuable to anyone in content," Michael said. "One of the things that I've always said about freelance writing in general is that there's something that you do miss when you're a freelance writer just operating your own business."
As a freelancer, you don't see how the whole content production process is organized. You don't learn how to track metrics.
An in-house gig can be a good place to start, end up, or even a temporary stint to make your freelance business stronger.
"They want to get more involved. Maybe they're not comfortable pitching strategy to some clients. They would pick up an in-house job doing strategy, take the lessons that they learned, and then come back to it," Michael said.
4 tips for becoming a high-earning freelancer
Freelance writers at every stage are looking to level up their game, become better writers, and earn more.
Michael gave us some of the best advice he's learned from his career as a freelance writer and that he uses to coach his members at Peak Freelance.
1. Learn the science of readability
The Google algorithm favors articles that align with the science of how people read. This includes things like:
Use common words
Make copy easy to scan
Break up text with images
Use bullet lists
Source original research
Writing for the internet has evolved over the last 10 years and it will undoubtedly keep evolving.
Writers have to stay on top of those changes. For Michael, this means staying up to date on content design and user experience.
"User experience really does play into how to write an article because a reader is interacting with your page. You have to find ways to keep them on the page, and you have to find ways to keep them interested and give them the information that they want quickly and easily," he said.
2. Flex your formatting
A well-formatted article leads to better results for your clients. When you can get your hands on those results, that evidence will also lead to the ability to charge higher rates.
All of that readability research will pay off through client success and referrals.
"If a reader comes on to your page and they have a good experience, I'm not going to say they're totally in love with your brand," Michael said. "But if they have a really good reading experience, they're more likely to convert on that page."
You can show those results to future clients and charge more. And that becomes an endless cycle of leveling up.
Michael said Peak Freelance's advanced writing courses spend a lot of time pushing format and structure, because there's a direct line between structure and success.
3. Get your performance data
In order to prove the success of your content, you have to have the data to back it up.
Many companies won't, or can't legally, share performance metrics. But it's important to get whatever data you can.
"Freelance writers, even though we're solo and some of us are like the cats, but we still want to know where we fit into the bigger picture," Michael said.
Being able to see the true value of your work is a major confidence booster and it helps you to justify rate increases.
Ask every client for whatever performance metrics they can provide. If they say no, plug the URL of the piece into Ahrefs to get its "value." That's what a company would have had to spend in ad dollars to get the same results.
Sharing this information doesn't just benefit the writer.
"It benefits the company also, because you have more confident writers. More confident writers are going to write better," he said.
4. Pick the highest price you can say without laughing
Deciding what to charge is one of the most stressful parts of freelancing. Michael has a tried-and-true tactic that he uses with his members that he earned from 'sex tech' leader Cindy Gallop.
"If you can't figure out your price, just say the highest price you can without laughing," Michael quoted.
In other words, what's that high price you want and doesn't sound absurd?
Whatever that is, settle there to start. But don't stay there forever.
"Another thing that we recommend at Peak Freelance, is every time I get a new client, I raise my prices," Michael said.
Raise your prices a small percentage with each client — maybe 5-10%.
These are the types of tips that you can only really get from other freelance writers who've been through it.
A community like Peak Freelance can give you tips, job leads, and the confidence boost you need to pitch that next client.