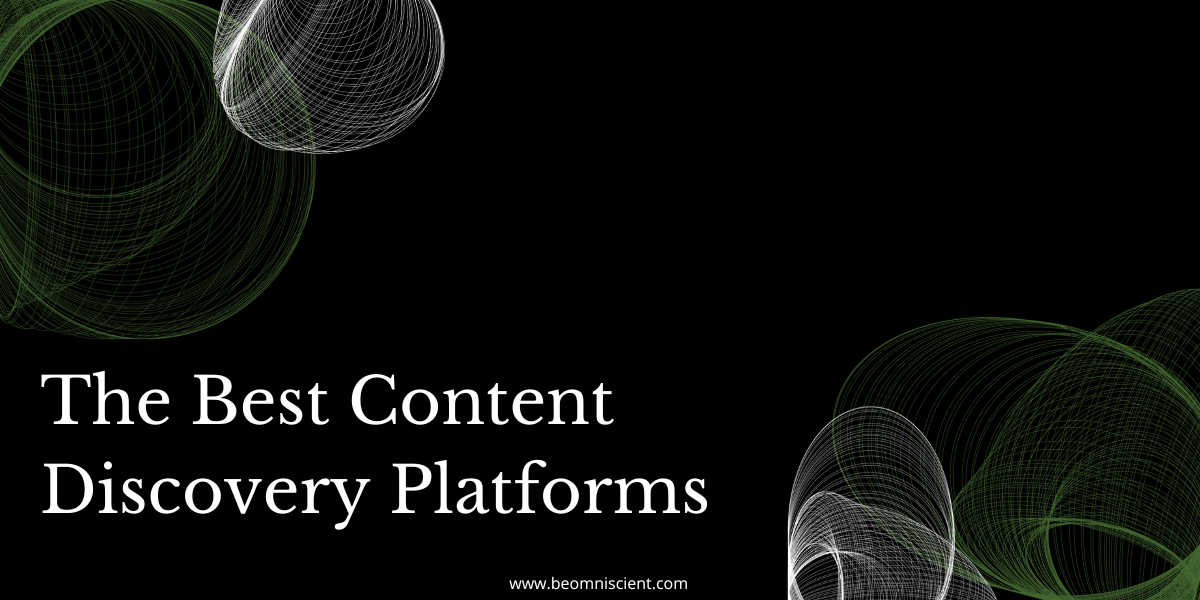 The internet provides an abundance of valuable resources, but it's also a rabbit hole of distractions.
One minute you're researching a topic for work, and the next thing you know, you've lost hours scrolling through baby hedgehog videos on TikTok.
However, for marketers who need to stay up-to-date on industry trends and competitor activity, logging off isn't a practical solution.
Enter content discovery tools. These nifty little resources can help you filter out the noise and curate high-quality resources to maximize productivity and prioritize your work.
What Exactly is Content Discovery?
Content discovery is the process of finding and consuming new, relevant content online.
There are three main types of content discovery tools: aggregation websites, RSS feeds, and marketing tools that offer content curation.
Aggregators like Alltop are useful for those looking to find high-quality content curated by experts in a particular industry or niche.
RSS feeds, like Feedly, prioritize new content from the websites and sources you choose to follow.
And marketing tools, such as BuzzSumo, provide advanced content curation features, like the ability to monitor competitors' content, track mentions, and analyze performance metrics.
By using these tools, content marketers can streamline their content research process and focus on creating high-quality content that resonates with their audience.
A Simple Guide to Effective Content Exploration
Here are some practical tips to help you optimize your content discovery process:
By following these tips, you'll be able to make the most of your content discovery tools and find the most relevant and valuable content for your marketing needs.
The 17 Best Content Discovery Tools in 2023
Here are 17 best content discovery platforms to alleviate your writer's block and take your content strategy to the next level:
Feedly
Pocket
Alltop
Scoop.it
ContentGems
Google Alerts
Content Studio
Flipboard
BuzzSumo
Ahrefs
SEMRush
AnswerThePublic
TweetHunter
Reddit
Quora
Honorable Mentions–Hootsuite and Buffer
News Curation

Pricing: $6+ per month (Freemium available)
G2: 4.3/5
What Makes it Valuable: Feedly is a popular RSS feed reader that allows users to subscribe to feeds from blogs, news sites, and other online sources. It's a great tool for content discovery as it allows users to aggregate and organize content from various sources in one place.
Hot take: Feedly stands out from other content curation tools due to its high level of customization. It allows users to tailor their feeds to their specific interests, such as "SEO" or "SaaS". Additionally, Feedly offers a killer A.I. search tool that enables users to track brand name mentions, upcoming trends, and consumer insights.

Pricing: $5 per month (Freemium available)
What Makes it Valuable: Pocket lets users save articles, videos, and other content to view later. It's user-friendly and has a minimalist design, with one-click saving from browser extensions and mobile apps. It offers personalized content recommendations based on users' saved content, and the "Discover" tab showcases popular content across categories.
Hot take: Pocket is an excellent app for casual reading, but it may not be the best choice for targeted content research in specific business or technology areas.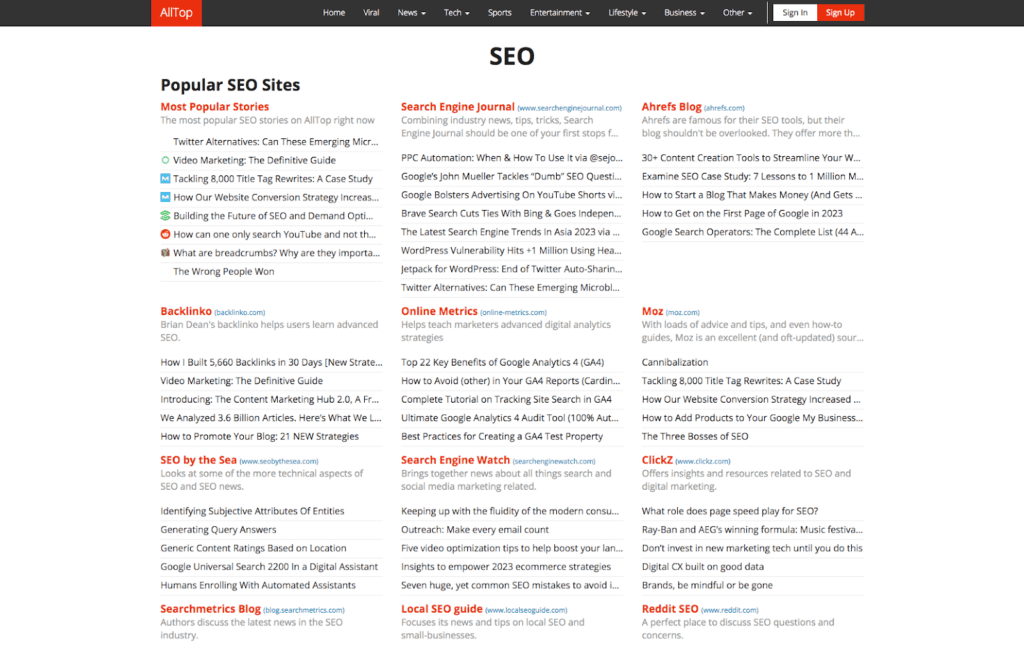 Pricing: Free
What Makes it Valuable: Alltop is a news aggregation website that collects headlines from various sources across a broad range of topics. Alltop's human editors curate only high-quality and relevant news articles, providing users with a personalized news experience. Users can easily browse different categories, subcategories, and custom RSS feeds to find the latest news in their field of interest.
Hot take: Alltop's simplicity is its beauty, making it an excellent tool for those seeking a curated list of handpicked articles to read.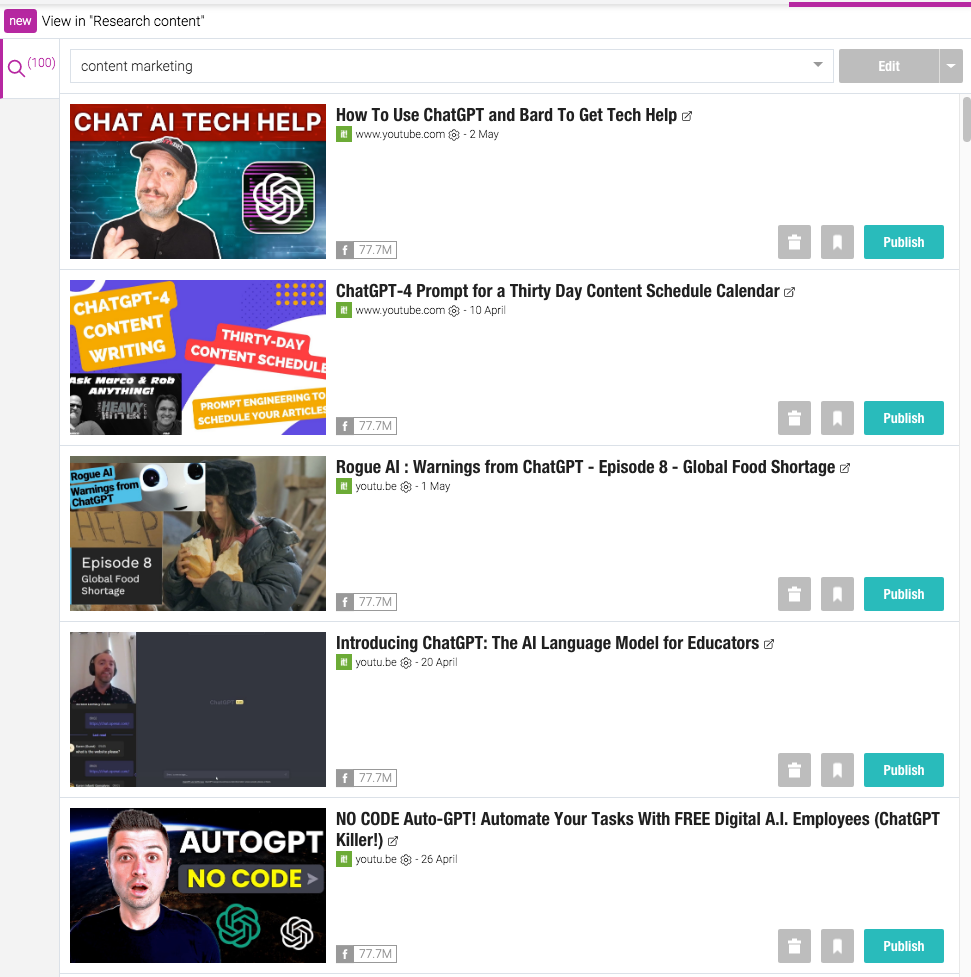 Pricing: $14.99+ per month (Freemium available)
What Makes it Valuable: Scoop.it is a content curation platform that allows users to easily discover, curate, and share high-quality content on specific topics. What makes it noteworthy is the social element of the platform enables users to connect and collaborate with other curators to discover new content.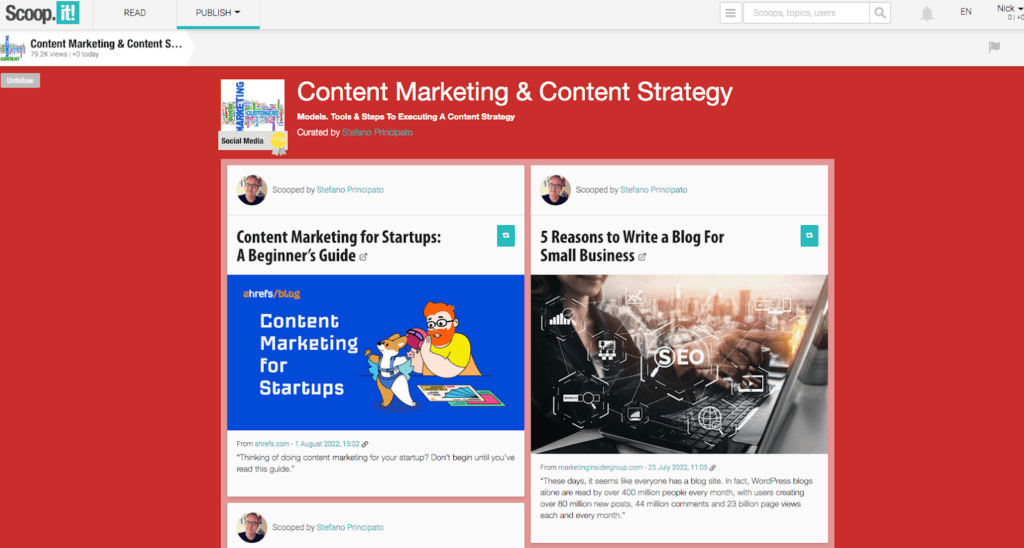 Pricing: $10+ per month (Freemium available)
What Makes it Valuable: ContentGems offers real-time analysis of content, ensuring that users only share relevant and engaging content. It uses machine learning algorithms to recommend high-quality content based on a user's interests.
Hot Take: While ContentGems can provide interesting search results, the sparse search results may not be ideal for targeted content research in specific business or technology areas. However, it could still be a useful tool for more broad and generic topics.

Pricing: Free
What Makes it Valuable: Google Alerts is a free and easy-to-use tool that allows users to receive email notifications whenever new content related to their specified keywords or topics is published online. It can help users stay up-to-date on industry news, track competitors, monitor brand mentions, and keep an eye on emerging trends. One unique feature of Google Alerts is that it can be used as a research tool to discover new content ideas. By setting up alerts for relevant keywords, users can stay on top of new developments and find inspiration for their own content.
Hot Take: Google Alerts may not be strictly a content discovery tool, but it can be a valuable resource for keeping up with industry-specific news and finding content ideas. Simply input relevant keywords and check the results, then link it up to your email for convenient notifications.

Pricing: $25+ per month (Free trial available)
G2: 4.6/5
What Makes it Valuable: ​​ContentStudio enables users to search for and gather content from social media platforms, blogs, and news sources. It also provides social media management features for scheduling and publishing content. ContentStudio's AI-powered content discovery and curation feature suggests relevant content based on the user's interests and target audience. It also offers a unified dashboard that shows all social media channels, website analytics, and content performance metrics in one view.

Pricing: Free
What Makes it Valuable: Flipboard is a content curation and discovery platform that allows users to create their personalized digital magazine by selecting topics and sources they are interested in. It offers a visually appealing and user-friendly interface and a unique feature called Smart Magazines that automatically curates articles based on specific topics, keywords, or sources.
Content Inspiration

Pricing: $119+ per month (30-Day Free Trial Available)
G2: 4.5/5
What Makes it Valuable: BuzzSumo is a content discovery tool that helps users find popular content on a topic or among influencers. It shows how often content has been shared on multiple social media platforms, which can help identify popular content in a niche. BuzzSumo also helps generate ideas for new content by identifying top-performing content and influencers in a niche. It can even show gaps in the content market by highlighting popular topics that are underserved.
Hot Take: BuzzSumo is simply the best tool for content discovery. Its trending content and keyword metrics, topic explorer, and question analyzer provide valuable insights for content creators. While it's more expensive than other tools, BuzzSumo is worth the investment for the best results.
Here are some of my favourite features:
Trending content and keywords–with actual metrics to quantify popularity: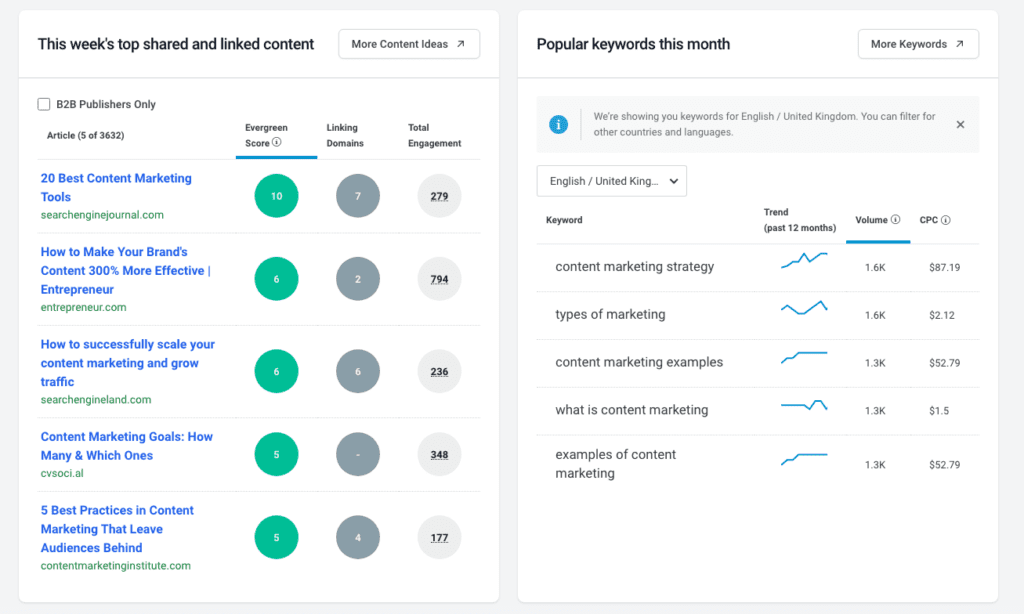 A Topic explorer that creates a list of associated and relevant keywords. It even suggests potential angles to take your piece: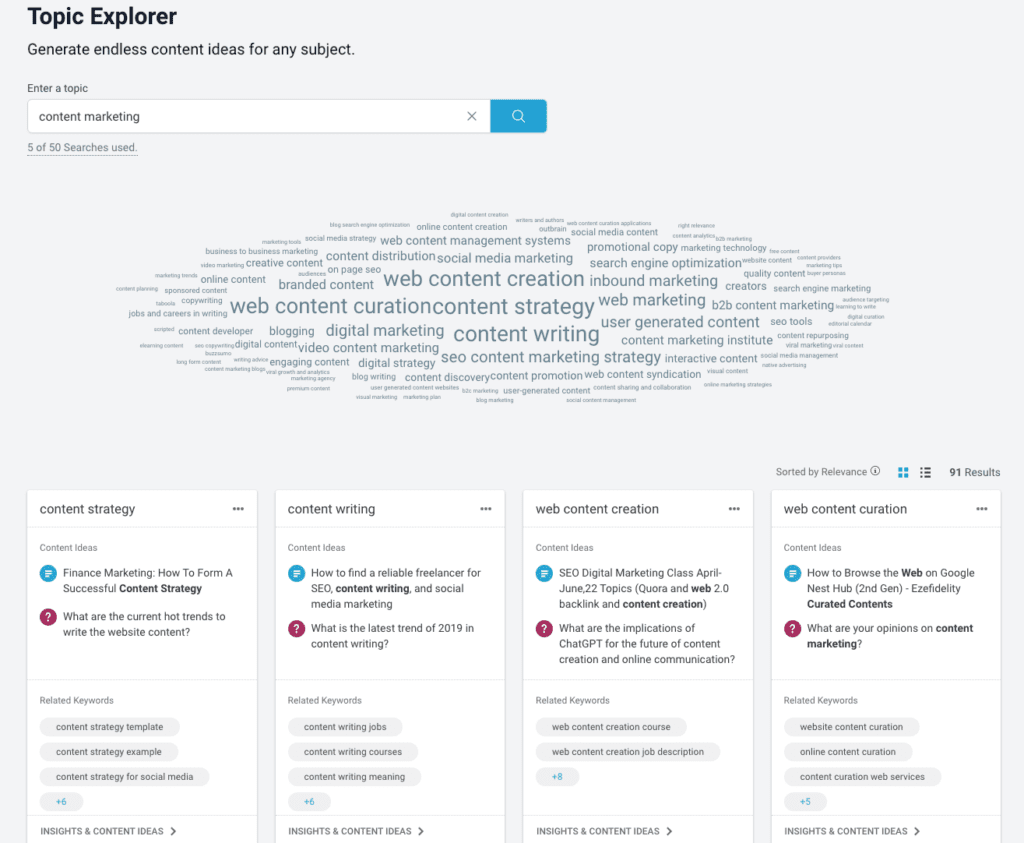 A question analyser that collects popular searches from Google and social media: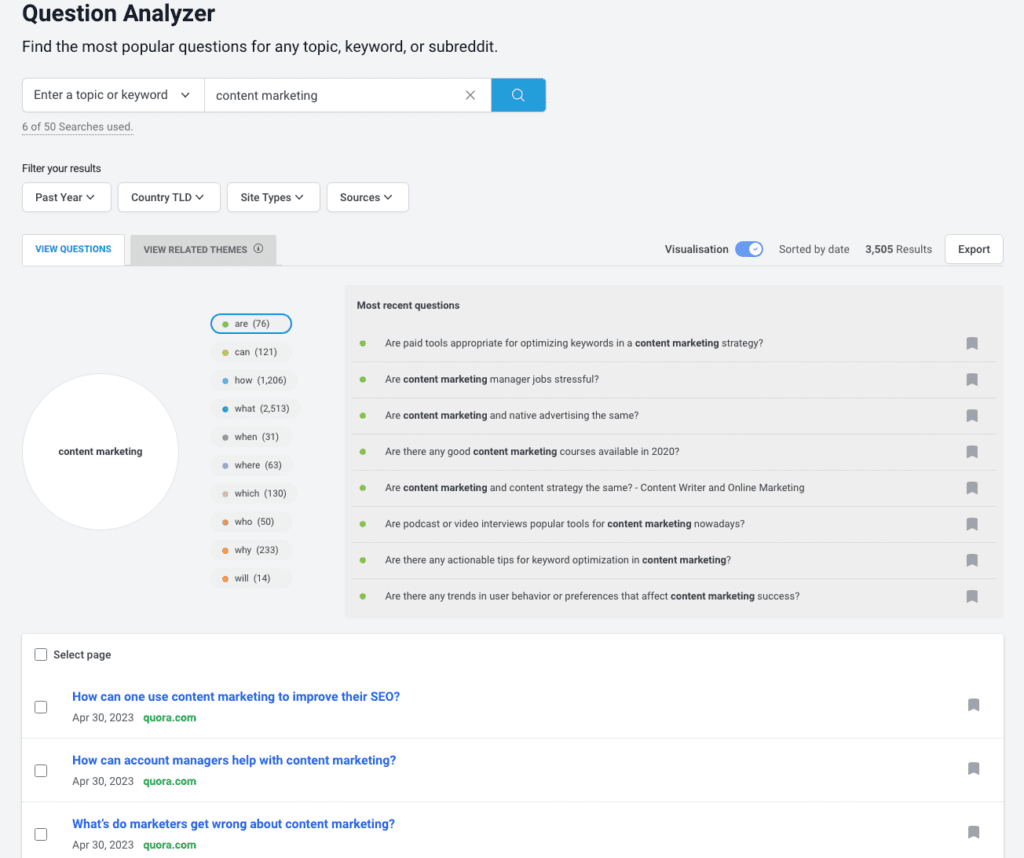 Top Tip: BuzzSumo can be overwhelming. In general, it's better to focus on creating content worth reading rather than just following arbitrary metrics like ideal article length or best posting time.

Pricing: $99 per month (+Free tools)
G2: 4.6/5
What Makes it Valuable: Ahrefs is a popular SEO tool that provides website analysis, backlink tracking, keyword research, and content analysis. Its Content Explorer tool allows users to search for content related to a specific topic, keyword, or website, and provides data on the top-performing content pieces in terms of social shares, backlinks, and organic search traffic.
Additionally, Ahrefs' Content Gap analysis feature can help identify content gaps in your strategy by showing which keywords your competitors are ranking for that you are not.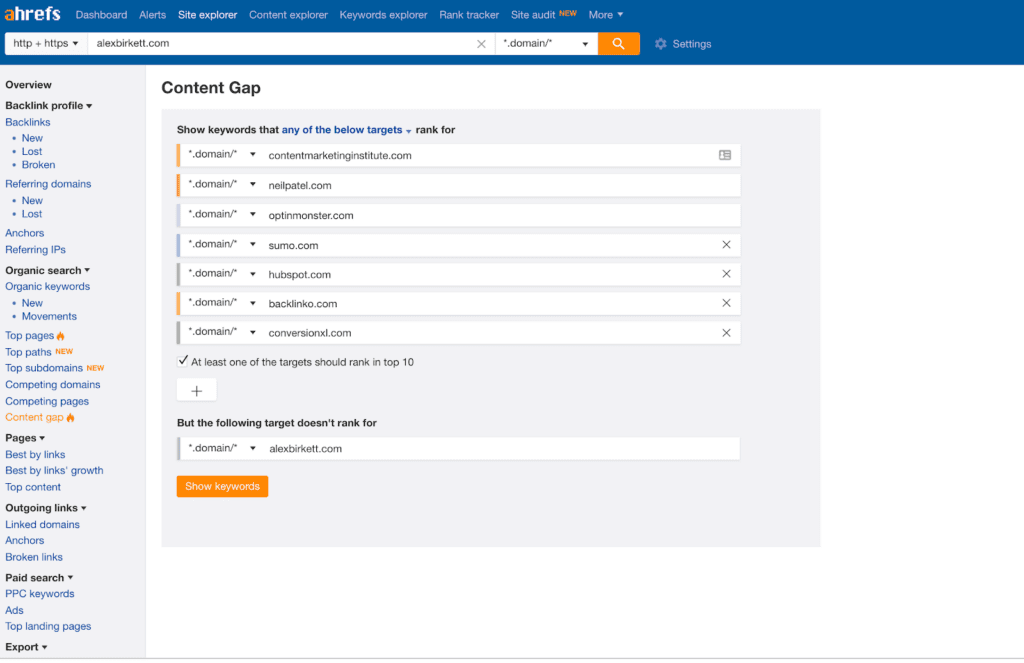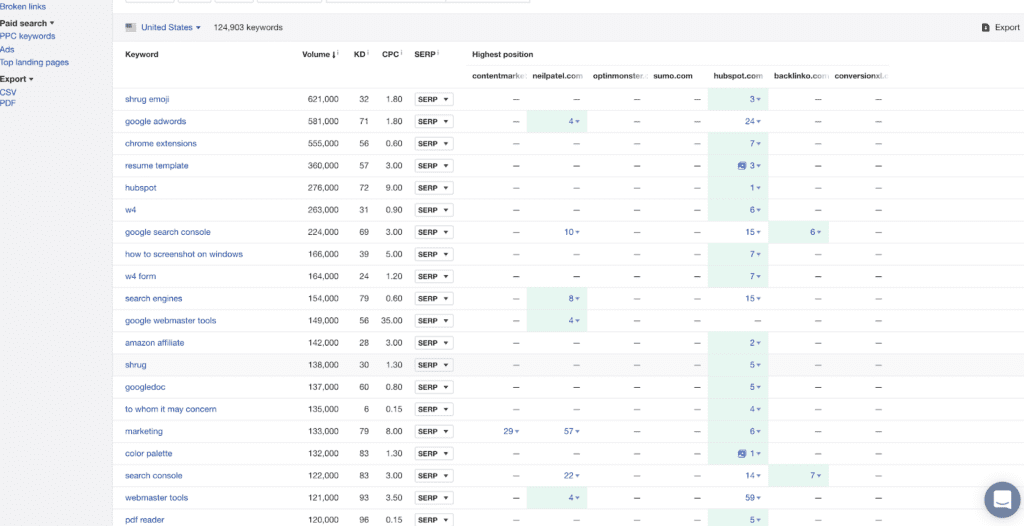 Pricing: $119.95+ per month (Freemium available)
G2: 4.5/5
What Makes it Valuable: SEMrush's topic research tool generates relevant content ideas from specific keywords or topics, while the content optimization tool improves existing content. The content creation ideas tool suggests topics based on user input and data analysis. Additionally, competitive research features provide insight into successful content strategies used by competitors, which can inspire new ideas.
Just check out these headlines based on backlinks and ready-to-answer questions: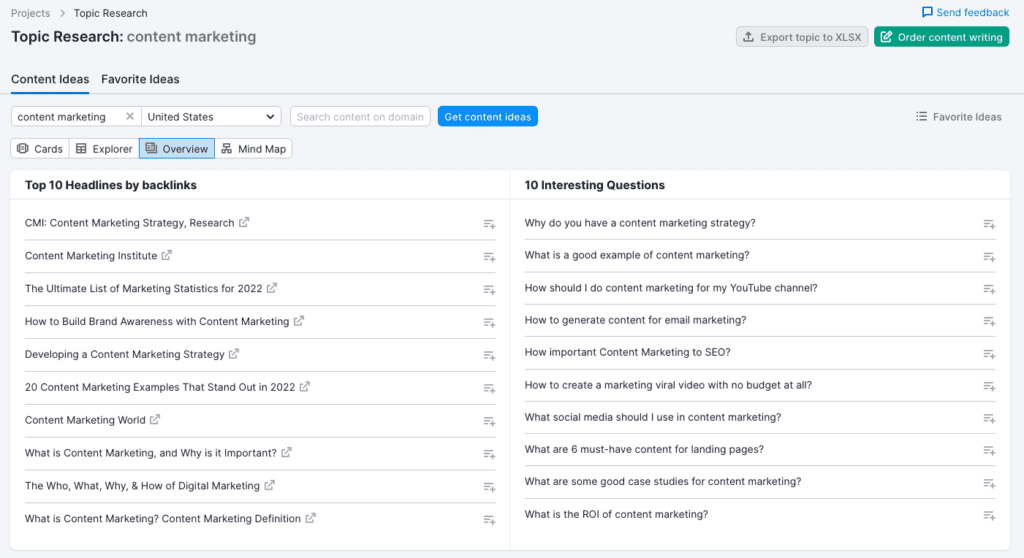 Or this extensive list of the popular question around your topic of interest: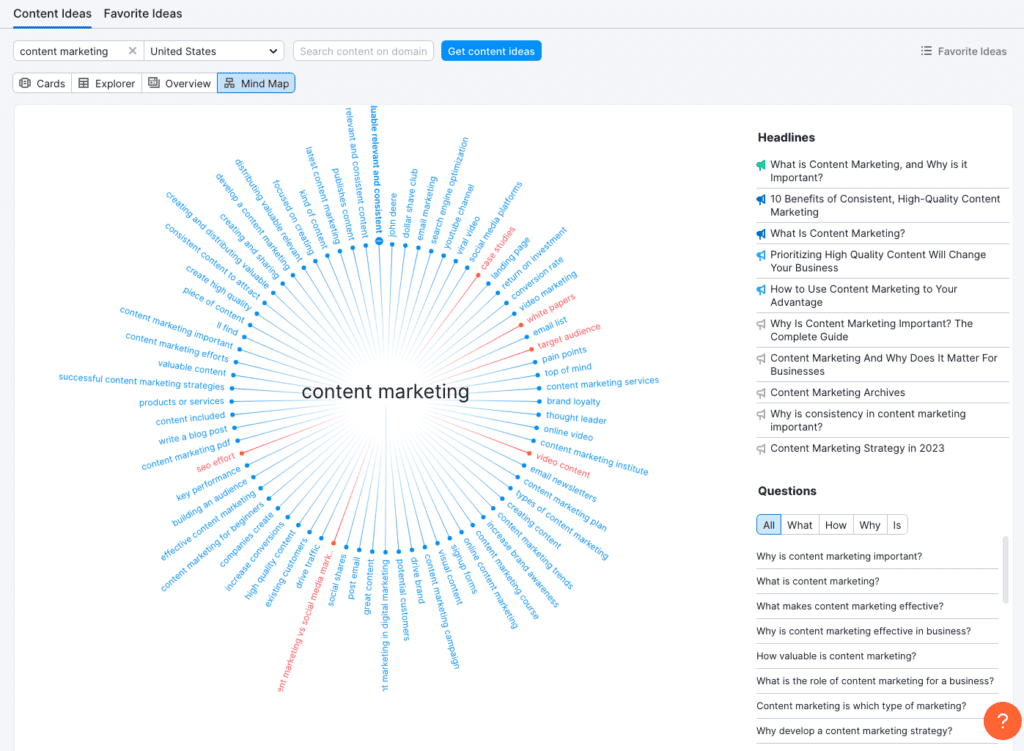 Pricing: $9+ per month (Free trial available)
G2: 4.5
What Makes it Valuable: AnswerThePublic is a content discovery tool that provides insights into the questions and phrases people search for on search engines, primarily Google. It works by taking a keyword or topic and generating a visual map of related search terms and questions.
The platform is popular because it helps content creators find ideas for their content by understanding the questions and concerns of their target audience. It also helps businesses and marketers identify gaps in their content and find opportunities to create content that is relevant to their audience.

Pricing: $49 per month (Free Beta version available)
What Makes it Valuable: TweetHunter (formerly TweMex) is a social media tool that helps users discover trending topics and hashtags on Twitter. It allows users to search for relevant keywords and see the top tweets, hashtags, and influencers related to those keywords in real-time.
Hot take: There's a lot of noise on Twitter, therefore having a way to organise and prioritise Tweets is a huge time-saver. If you want to find the best and most popular ideas of your favourite creators, look no further than TweetHunter.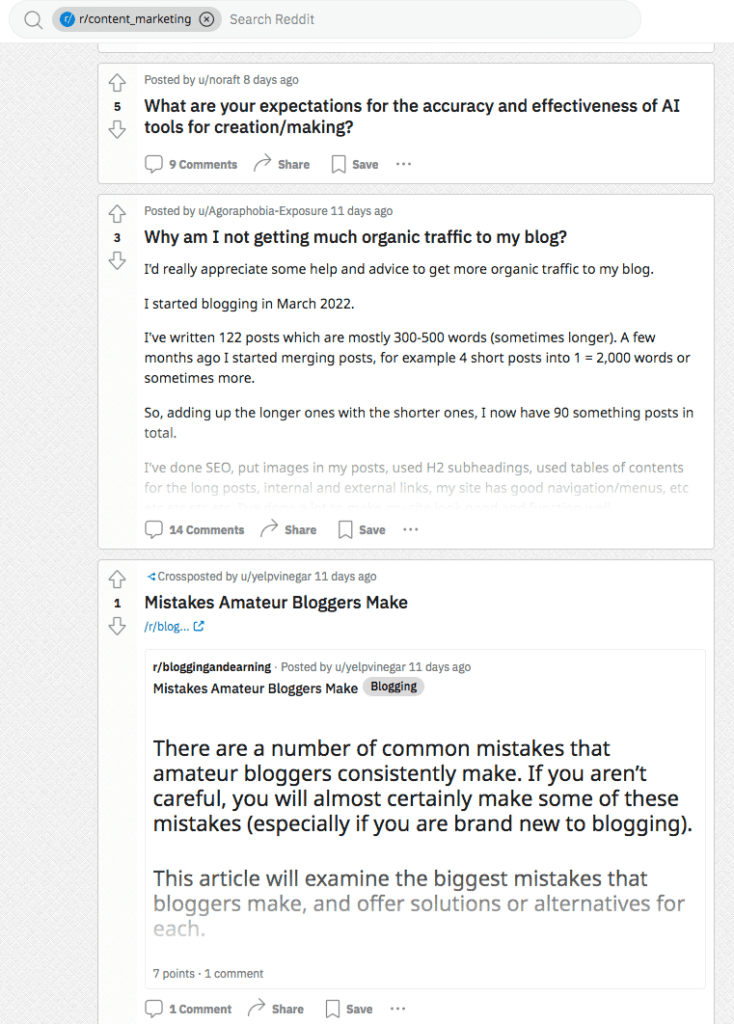 Pricing: Free
What Makes it Valuable: If you want to get a deep insight into your target audience's mind and you've got time to sift through the noise–Reddit is king. By simply observing the popular questions in Subreddits, you can fill up a content calendar for months.

Pricing: Free
What Makes it Valuable: Quora literally has a section for unanswered questions–it's a goldmine for content inspiration. Or you can reverse-engineer the top posts of popular content creators and figure out a unique angle. The choice is yours.
Honorable Mentions
While not explicitly content discovery tools, some social media management platforms offer advanced social listening capabilities that can aid in content curation. If growing your social presence is a priority–these tools are definitely worth considering:
Pricing: $99 per month (Free Trial Available)
G2: 4.1/5
What Makes it Valuable: Hootsuite has a Content Library that allows users to discover and curate content from a variety of sources, including social media feeds, news outlets, blogs, and RSS feeds. Hootsuite also offers a content suggestion feature, which recommends articles, images, and videos based on the user's interests and engagement history.
Pricing: $120/month
G2: 4.3/5
What Makes it Valuable: Buffer has a great "Content Inbox" feature which aggregates content from various sources for easy viewing and sharing. The "Buffer Browser Extension" allows users to quickly add interesting content to their queue while browsing the web. Buffer's "Top Posts" feature shows users the top-performing posts on their social media accounts and their competitors' accounts, helping to inform content strategy.
Conclusion
The internet has a lot of information, and finding what you need can be overwhelming.
Content discovery tools like aggregator websites, RSS feeds, social listening tools, and SEO software can help you filter out irrelevant content and find what you need faster.
By using these tools, you can save time, stay informed about the latest trends, and get new content ideas that can help you create a more effective content strategy.