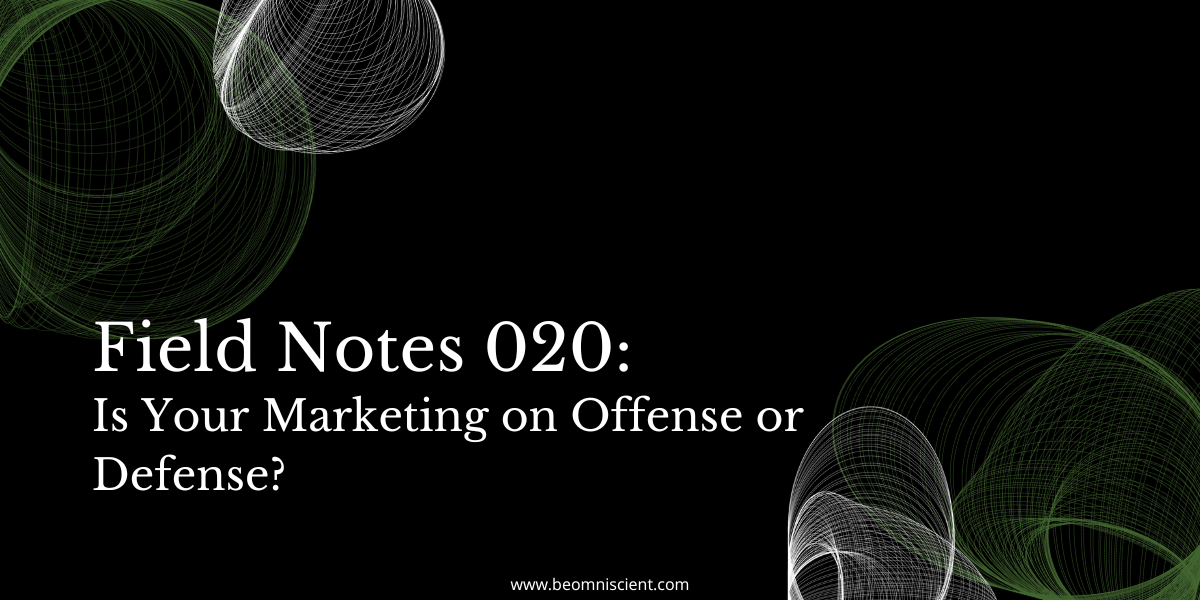 You've likely seen the news about layoffs. We can discuss at length about why they're happening and the changing landscape of tech, venture capital, and the move toward profitability, but that's not what this newsletter is going to be about (you can listen to this All In podcast episode for that).
We're going to focus on what that means for marketers and folks tasked with growing demand for a business.
Here's what I've learned from speaking to people who've managed businesses through a recession:
Companies have to decrease burn and increase runway, so they take a detailed look at their P&L and find areas to cut costs.
Unfortunately, Marketing is often one of the departments that sees cuts. This means layoffs and reduction in marketing budget – usually considered a discretionary expense.
This is a traditional defensive maneuver that most businesses implement during tough times (as they should).
Therein lies the opportunity for companies that are set up to capitalize on the market condition (hopefully that's you).
You (and/or your company) are likely cutting expenses and unfortunately might've also had layoffs.
Now what?
As a marketing team, what can you do to set the business up to grow your audience, generate demand, and not just survive but thrive?
Perhaps demand will be down for the next few quarters, but how do you set up your company to be the one your target audience and buyers trust the most? How do you make sure they're ready to buy from you once the market stabilizes and they're given the go-ahead to resume marketing?
It seems counterintuitive, but the best defense is a good offense.
Going on the offense means continuing to build your marketing engine while others are playing pure defense and pausing most or sometimes all marketing activities.
Here are some ideas for what that might look like:
1. Start a podcast. Get your CEO on a 30-minute call each week and talk about the hot topics of the industry. Have the conversations that your target customers are having and become a resource for them. Guide them through these challenging times. Don't overthink it.
If you're already doing a podcast, double down on your publishing cadence. Won't be easy, but that means few people are doing it.
Additional cost: $15/month for podcast hosting
2. Invest in content and SEO. I'm biased, but this is the channel that keeps on giving. If people aren't ready to buy in the short-term, then there are only a handful of short-term plays that can drive revenue now. Invest in content and SEO now so you can build an audience, be helpful, and become the trusted brand in your industry. You'll be top of mind when prospects are ready to buy.
Additional cost: None or minimal. Aim to have a group of folks carve out 2 hours a week to write a weekly article. Better yet, take the podcast you're producing and repurpose it for the blog. Maybe hire an editor to help crisp up the writing. Distribute it via social and email. Don't overthink this.
3. Host more webinars/online events. Remember, your competitors are probably playing defense and reducing marketing spend. They might be going radio silent. Do not get lost in that silence. Be the brand that continues to be a helpful resource. Build up your list of prospects and continue to keep them engaged even though they may not be ready to buy in the near-term.
Additional cost: None or minimal. Use Zoom ($60/month) or Google Meet. Again, don't overthink this. You'll have to get scrappy.
The theme here is to continue building your marketing engine. Play a smart offense while others are playing pure defense.
It will mean being scrappy. You'll have to ruthlessly prioritize all your marketing activities. Sure there will be some short-term plays you'll need to run, but what long-term plays are you running to set the business up for success when all of this is over?
Good luck.
We're going to be running some of these plays for our own business. Rather than just share what we're going to do, we're going to walk the walk and focus on executing our playbook, then share the results with you in a few months. 
Recommended Reads
1. Patrick Campbell's Twitter thread on running a business during a recession. It's a long thread but dense with helpful reminders and advice.
2. Survive or Thrive. A resource from Paddle. A helpful resource to help
3. Running a Content Program as a One-Person Team. We're all likely running a lean team. Here's how Nikhil Venkatesa has built on a content program by himself.