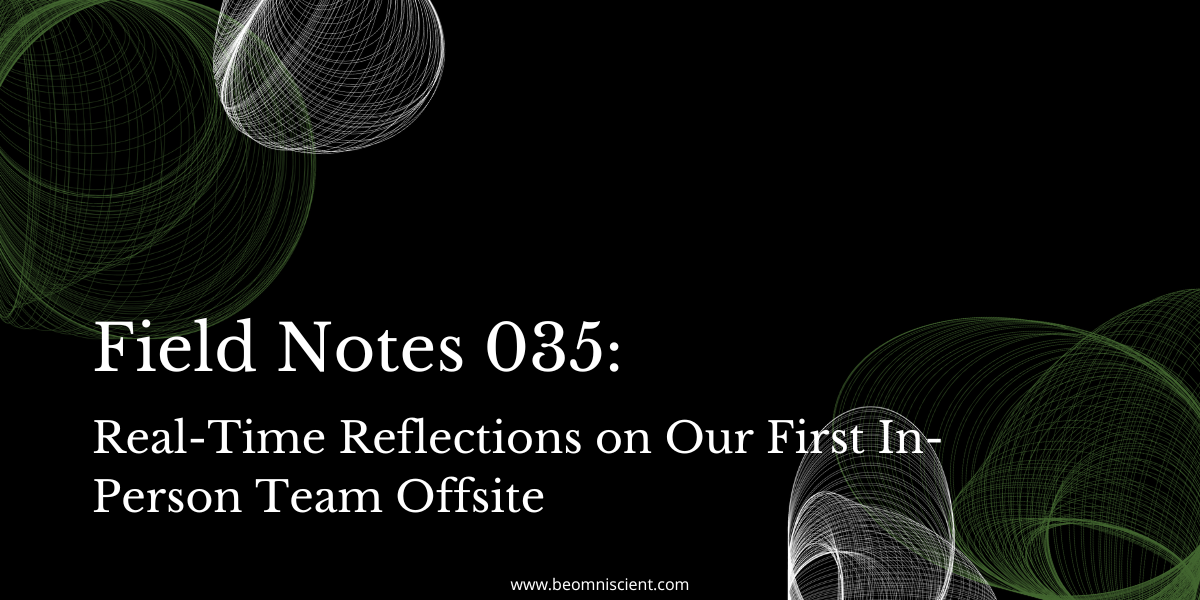 Most of the Omniscient team has been at an offsite in Southern California this week. It's the first time some of us have met in person after many months–in some cases, many years–of working together over Google Meet.
There are plenty of benefits of working remotely, but there's nothing like getting together in person, cooking and sharing a meal, and having group discussions around a (real, not virtual) table.
Here are some of my real-time reflections on what I've talked about during the offsite so far.
There's nothing like the personal connection that happens face-to-face.
We cooked a huge Italian meal together. We went on morning runs. We had many drinks. We went on a beautiful hike.
No amount of virtual team-building activities could replicate the energy we got from doing these activities together.
So much trust is built by spending time with each other and learning how we each think and work and behave–things that don't translate through a small box on your laptop screen in 30 minutes.
These face-to-face interactions enable us to build personal connections and have a deeper understanding of each other. If you want to tie it back to business growth, this all ultimately improves how we work together.
But it's also just fun spending time with people.
The energy of in-person workshops can't be created virtually.
We had a 3-hour working session reflecting on how far the business has come from team growth (we've hired four people in the last six months) to financial growth and client growth.
Sure we could have done the meeting over Google Meet, but the energy of building on each others' ideas and the excitement of building something specialty don't translate over Zoom.
These meetings can be productive over Meet, but you don't get the same energy from sitting in front of a computer for 3 hours.
Spontaneous informal conversations
We booked a huge Airbnb to treat the team to a special experience and make sure there was a lot of space to lounge and hang out.
Spending time in a house together provides plenty of opportunities for informal conversations. It could be as simple as a good morning; standing outside looking at the view of the mountains with a cup of coffee; or working outside in the sun with our sunglasses on.
It's the equivalent of the water cooler and hallway conversations we used to have when we worked at an office. Or the "Hey, need a break?" Or even the "Got a minute?" Which I used to hate, but now welcome those moments.
Those informal, unplanned discussions often lead to breakthroughs in our thinking, uncovering some context we didn't know we were missing, or new ideas to explore.
Dedicated time to zoom out.
While working remotely, a lot of our time is spent working on day-to-day projects. While it's ideal for us to block out time to think about $10K work, when we're growing and so busy that we have a month-long waitlist of clients, it feels tough to justify carving out that time.
By having a dedicated week with the expectation that the team should reschedule all meetings, we've given the team the space and permission to zoom out from their day-to-day.
The things that matter.
I've learned that the things that matter in life are the relationships we build. Work takes up such a large part of our lives that it doesn't make sense to not ever meet in person. It doesn't make sense not to learn about each other beyond the often transactional nature of remote work.
It does make sense to spend time with people you truly enjoy working and spending time with.
Regardless of whether we all continue working together for the long term or if folks move on to new adventures, I believe what we'll appreciate most are the amazing people we've met and connected with throughout our careers and our lives.
Want more insights like this? Connect with me on LinkedIn.
Recommended Reads
1. How to Plan a Successful Team Offsite – While we didn't follow everything in this article, it helped create give structure to our planning.
2. A Marketing Turning Point – Meghan Keaney Anderson, Head of Marketing at Jasper, talks about the impact of generative AI tools on the marketing function. While talk about the doom and gloom of these tools taking over, Meghan provides an inspiring message about how they'll make us better.
3. Talking about imposter syndrome – Ryan McCready joined Alex, Allie, and me in a long discussion about imposter syndrome throughout our careers.