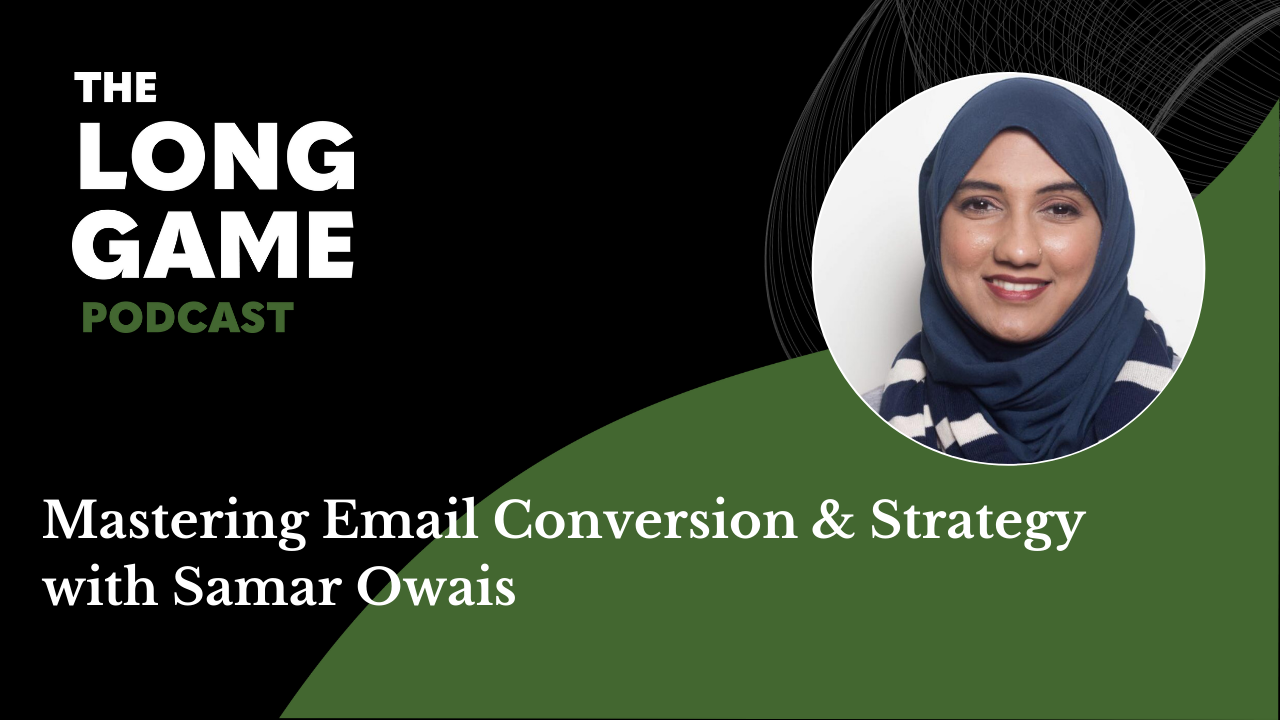 Samar Owais is an email conversion strategist for SaaS and eCommerce brands. She helps companies like Hubspot, Drip, and Pinterest as well as numerous ecommerce brands increase conversions, retain customers, and fix the money-leaking gaps in their emails.
We've all reached that point where we hit a professional wall. Our work loses its luster, and we dread opening our laptop. Sometimes it's due to not recharging with sleep and downtime. Sometimes it's a specific project that's not appealing. As Samar discovered, sometimes it's because your entire professional focus needs a refresh.
In this episode of The Long Game Podcast, Samar shares how she went from unmotivated blogger to one of the top email strategists in the SaaS and eCommerce space.
This conversation also covers how being a realist can fundamentally change your approach to email marketing. We hope you enjoy this episode.
You'll find Samar geeking out over emails on Twitter and every Wednesday with her subscribers in the Emails Done Right newsletter.
Connect with Samar:
Listen to the podcast
Watch the video
Key Takeaways
6:24 – Recognize when work is not fulfilling
Samar started hitting a wall when it came to interest and excitement in her content writing work, despite the fact that she was financially successful.
"I went on to grow my business and I wrote content for entrepreneurs like Paul Jarvis, popular blogs like Copy Blogger, brands like side Marriott and Intercontinental and so on. And in between, there was a lot of startups as well that were coming up at that time and needed content. And now that the business part was done, I thought I had hit the sweet spot. The rates I was charging, I was getting. But then slowly I just started losing interest. I would say yes to a project because I knew how to do it very well, but then I would sit down and I wouldn't do it. And I was spending the same amount of hours working, I just wasn't working, if that makes sense. I would waste time online. And that I became this person who was always under the gun, who was submitting things just before the deadline, just enough to save my reputation."
9:43 – Pursue new partnerships to find your niche
While taking a writing course with Joanna Wiebe of Copyhackers, Samar realized that she wanted to take her writing career in a new direction. She approached fellow classmate and email guru Val Geisler about subcontracting.
"Val Geisler was in the course with me and her business was growing by leaps and bounds. She was implementing everything that Joanna [Wiebe] was teaching us. And she put out a call in the Slack group saying "I'm looking for subcontractors." And I think she was familiar with the fact that I was experimenting with different types of copy and trying to find what would stick for me. And so I messaged her and I said Val, I haven't written emails. But I had a blog at the time. And I told her I have a newsletter that I send out, here are the samples. And I'm a fast learner and I don't make the same mistake twice. Will you please take a chance with me? And she did. And she gave me two weeks to write an engagement sequence. I think it was five emails. That first week I was researching only, but every single day that first week I got up from my bed with a spring in my step…that marked change in my mental wellbeing almost was something that I noticed first. I was like, I don't remember feeling this way for a few years. And so that was my big clue that I found my niche."
14:53 – Identify your strengths using "via negativa"
Samar didn't know what she loved to do, but she did recognize what she hated to do. Alex noted this technique is known as "via negativa," or the process of ruling out things you don't want to work on in order to specialize in what is left.
"If you're looking at a sales page, just the idea of writing 5,000 words of conversion-focused copy—I could feel my shoulders drooping just talking about this stuff. I need sales pages for my business, I always carry them out. And I am in awe of all the copywriters who can write great sales pages, but it's just not for me. It's such a mental block for me. It just weighs heavily on me. Website copy's the same way. I'm in the SaaS world. Every other SaaS website pretty much looks the same. And so the idea of making them look different when there's nothing different about them, that's not a challenge that excites me. And then landing pages were just not – at this point you can just tell webpages of any kind are not my thing. The thing with email is that I could understand it very quickly. And even though it is sometimes a long drawn-out process, especially when you're doing an onboarding sequence, but my brain at least can compartmentalize it. So there's the VOC section, then there's the email strategy section, then there's the copywriting section. And over the years, I've just really identified my strengths, and it's email strategy."
24:47 – The art of the email sequence
In the SaaS world, Samar follows a clear process when mapping out an email strategy. It's centered around user touchpoints and choices.
"It's really us sitting down and figuring out at every user touchpoint, what do we want them to do? And then does this place deserve a sequence. And so for SaaS businesses, it's usually very cookie cutter. They sign up for the newsletter, then they get the nurture sequence. The entire purpose of the nurture sequence or the welcome sequence is to push them to the free trial. They sign up for this free trial, the entire purpose of the free trial is to get them to become paid users. They become paid users, then what do we want them to do? If a SaaS business has tiers, we want them to move a tier up. If a SaaS business doesn't have tiers, or even if they do, we want them to become annual payers instead of monthly payers so that there's a long-term retention there. And then through all of these touchpoints and the things that we want them to do, I keep asking "What happens if they don't convert? What happens if they don't do what we want them to do?" And then usually the answer is send them another email sequence. And that is where it gets really interesting."
36:04 – Put your own business first
Samar eventually started craving more recognition in her space. But when you are constantly caught up in client demands, it makes it difficult to take conscious steps to grow your own business.
"When it comes to the balance that we put in our own business and our client's business, we will always put our client's business first, because they're relying on us. They're paying us for it. Which is why I struggled to grow my business for the longest time. I worked with Val, I worked with Jo, and I started feeling like the email world's best-kept secret, where only Val and Jo knew about me. And I was like, no. So I've learned what I wanted to learn, and now I'm craving recognition. Which is when I started looking to grow my own business beyond subcontracting for somebody. And so it's taken me three years, but I realized that the answer for me is never, "what do I love doing?" The answer is always, "what do I hate doing?" And then whatever's left is what I want to do."
39:00 – Use VOC data wisely
Samar partners with VOC specialist Hannah Shamji on most projects. Once they use the data to understand the customers, Samar maps out a strategy and gets client buy-in.
"For my VOC work, I partner with the brilliant Hannah Shamji. She is interestingly working on a HubSpot onboarding project together right now. She handled the VOC part, she put together the data the way that I wish I was able to do. And the way she analyzes things, it just makes sense to me. I have to go to her report and her analysis and all of that. At the end, by the time I'm at the bottom of the report, I have my strategy in my head. And then it's just a matter of sitting down with the client and asking them, "these are my recommendations, which of these can you realistically implement?" Because I could give you the ideal scenario onboarding sequence, but if you can't implement it, it won't convert for you, and you're just essentially wasting time. So then the clients come back to me, and they'll tell me this, this, and this is something that we cannot implement, but these are the parts that we can. And then as a strategist, then it's my job to find a way through, based on what we can do."
47:21 – A newsletter that kept on giving
When Samar started her newsletter, she didn't have many readers but still made a big impact with her popular insights and brand teardowns.
"I woke up and I had an idea for the newsletter. And then week after week, I think it was just building a muscle where I started noticing things, little things that nobody else was talking about, or at least not thinking about in the terms that I was. And so I started talking about that. And one of those emails was "Abandoned cart emails are creepy as hell." And that was my subject line. That is to date one of my most popular emails. I had maybe 100-115 people at the time, but it was the right people. Because again, I grew this newletter organically, no marketing of any kind. The first 100 people were people who knew me, so my network. And then every Wednesday when I'm writing an email, I send out teasers on Twitter that this is the topic that I'm going to talk about and stuff like that. And then I would have 5-7 people sign up every week. So in about a year, I'm maybe averaging 900-950 people now. So that one email led to an invitation to apply for Litmus Live. And then somebody at Pinterest saw that talk. And then when they needed help with email stuff, they reached out and hired me. And so the newsletter was the crux of growing the business. It created a chain of events that I'm seeing to this day."
50:59 – Rethink the email industry
Samar questions many common practices in the email space, such as sending "creepy" abandoned cart emails or a sequence that never mentions the status of your order.
"What I'm really picking a fight [with] is the way the industry uses emails. So abandoned cart emails, you forgot something in your cart, that's creepy, right? And every brand is sending emails. There are a bunch of different ways you could do it. And even if you just thought of it as a conversational email, it would just sound so much better other than a creepy, 'we were watching what you were doing on our website' email. Things like that. So I do remember tearing down one brand. They were big enough that it wouldn't bother them. But it was something—so I bought something on Black Friday last year. And I got an order confirmation and a shipping confirmation email, and that's it. And then nothing. And I received the product in January. And within that I think 34-35 days, they sent me 24 marketing emails. And not a word about my product. Even just a random email saying, Hey, we're experiencing delays because of the Black Friday rush or whatever. Please hang tight, it'll come to you. Here's your tracking number again. And when you are sending 24 emails, finding that shipping confirmation became a hassle. I had to search the brand name and then scroll down and find that. So unless it's that extreme, I don't do it."
57:44 – The low-hanging fruit in eCommerce emails
Samar sees many opportunities for email to thrive in the eCommerce world. With small tweaks on the email front, ROI can increase notably.
"Ecommerce is the one industry that needs the most help. And these are all low-hanging fruits that a strategist can go in and fix, and just cement that authority and be the email person for a brand. Simply because you are going in and telling a brand hey, this is easy stuff to do. Change this and then see how that goes. That's why I love audits so much. It's me telling a brand everything that they're doing wrong, and then everything that they can do to improve it. And it won't take you long. I have sections: easy to do, harder to do, hardest to do. The easy-to-do stuff is something that they can do within a day. They start seeing the return on investment in an audit. And then they see their numbers go up, or they see their customers appreciate it. It just makes sense: okay, so this person saw an opportunity, told us about it, she's the one that should handle whatever email problems happen now. It's just these small ways that you can position yourself as the go-to person."
1:07:02 – Say yes first, freak out later
This is the mantra that Samar lives by, and it's served her well. She's now presenting at more conferences and taking greater risks.
"For years I've been saying I have so much to do and so much to achieve, if only the world would stop for a few months. And then it did. And I accelerated. And one of the things I did was as every conference was going virtual, I was pitching them a topic. Just because I wanted to wet my feet, and I was like, I don't have to travel for this. That means I'm not spending money on it. And this is a golden chance for me to start speaking. I had sent Litmus two ideas, and they said, would you be interested in doing both? And I was terrified, but I said yes. That's another one of my mantras: say yes first, freak out later. And so whenever I'm in growth mode, I say yes first, and then I spend the rest of the time freaking out. And then it's done and I'm on the other side of it."
---
Connect with Omniscient Digital on social:
Twitter: @beomniscient
Linkedin: Be Omniscient
Listen to more episodes of The Long Game podcast here: https://beomniscient.com/podcast/