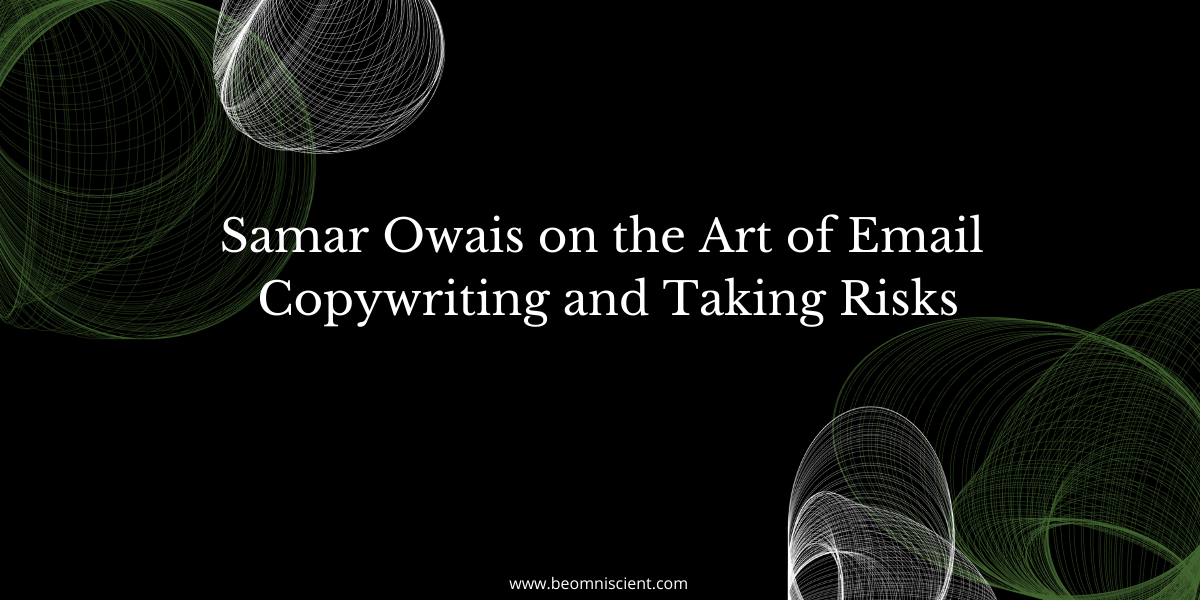 We've all reached that point where we hit a professional wall.
Our work loses its luster, and we dread opening our laptop.
Sometimes it's due to not recharging with sleep and downtime. Sometimes it's a specific project that's not appealing.
As Samar Owais discovered, sometimes it's because your entire professional focus needs a refresh.
She shared how she went from unmotivated blogger to one of the top email strategists in the SaaS and eCommerce space.
Identify your strengths using "via negativa"
As a writer, Samar was blogging constantly for popular companies at great rates. Despite the financial success, her creative spark had died.
Samar didn't know what she loved to do, but she did recognize what she hated.
"If you're looking at a sales page, just the idea of writing 5,000 words of conversion-focused copy—I could feel my shoulders drooping just talking about this stuff," she said.
"It's such a mental block for me. It just weighs heavily on me. Website copy's the same way. I'm in the SaaS world. Every other SaaS website pretty much looks the same. And so the idea of making them look different when there's nothing different about them, that's not a challenge that excites me. And then landing pages were just not—at this point you can just tell webpages of any kind are not my thing."
I've come across a name for this process of elimination in my own research: via negativa. It's the act of ruling out things you don't want to work on in order to specialize in what is left.
"It's taken me three years, but I realized that the answer for me is never, 'what do I love doing?' The answer is always, 'what do I hate doing?' And then whatever's left is what I want to do," Samar said.
In her case, what ended up at the forefront was email copywriting.
She found she could understand it quickly, compartmentalize it into logical sections, and make a clear impact with clients.
Pursue partnerships to excel in a new niche
In her quest to figure out what type of writing would unblock her creativity, Samar took a course with Joanna Wiebe of Copyhackers.
Fellow classmate Val Geisler was making a big impact with her email marketing business, and Samar didn't hesitate.
"She put out a call in the Slack group saying 'I'm looking for subcontractors.' And I think she was familiar with the fact that I was experimenting with different types of copy," said Samar.
Samar sent her some writing samples and assured her that while she'd never written email before, she was a fast learner.
"I don't make the same mistake twice. Will you please take a chance with me?" Samar recalls asking.
Her first assignment was an email engagement sequence. For the first time in years, she was hopping out of bed with excitement, ready to tackle the research and writing phases.
"That marked change in my mental wellbeing was something that I noticed first. I was like, I don't remember feeling this way for a few years. And so that was my big clue that I found my niche," she said.
Today she continues her practice of seeking out valuable partnerships.
For the Voice of Customer research that is integral to her email work, she partners with the talented VOC specialist Hannah Shamji.
"The way she analyzes things, it just makes sense to me. I have to go to her report and her analysis and all of that. At the end, by the time I'm at the bottom of the report, I have my strategy in my head," said Samar.
The art of the email sequence
Samar describes the email copywriting process as consisting of three discrete chunks:
VOC research
Email strategy
Copywriting
For her SaaS clients, Samar follows a clear process when mapping out an email strategy. It's centered around user touchpoints and choices.
"It's really us sitting down and figuring out at every user touchpoint, what do we want them to do?" Samar said.
At each touchpoint, you need to determine if an email sequence makes sense.
For instance:
Newsletter signup → email nurture sequence regarding a free trial
Free trial signup → email nurture sequence to become a paid user
Paid user → email nurture sequence to move to the next tier
Monthly user → email nurture sequence to become an annual subscriber
The goal of each email sequence is to get users to the next desired action and promote long-term user retention.
But you're not done there.
"And then through all of these touchpoints and the things that we want them to do, I keep asking 'What happens if they don't convert? What happens if they don't do what we want them to do?' And then usually the answer is send them another email sequence. And that is where it gets really interesting," said Samar.
Once Samar uses VOC data to map out a logical strategy, the next step is to get client buy-in.
"It's just a matter of sitting down with the client and asking them, 'these are my recommendations, which of these can you realistically implement?' Because I could give you the ideal scenario onboarding sequence, but if you can't implement it, it won't convert for you, and you're just essentially wasting time," she explained.
As a strategist, it's her job to then further tailor the strategy to what is actually possible.
Rethink the email industry
Samar questions many common practices in the email space, such as sending "creepy" abandoned cart emails or a long sequence of emails that never once mention the status of your order.
She thinks many email sequences could take a more conversational approach.
"What I'm really picking a fight [with] is the way the industry uses emails," she said.
"If you just thought of it as a conversational email, it would just sound so much better than a creepy, 'we were watching what you were doing on our website' email."
She recalled an especially cringe-worthy email experience ordering something online during Black Friday.
"I got an order confirmation and a shipping confirmation email, and that's it. And then nothing. And I received the product in January. And within that I think 34-35 days, they sent me 24 marketing emails. And not a word about my product," she said.
Since it was a major brand, she used the experience as the subject of one of her newsletter teardowns.
Samar sees many opportunities for email to thrive in the eCommerce world, particularly. With small tweaks on the email front, ROI can increase notably.
"Ecommerce is the one industry that needs the most help. And these are all low-hanging fruits that a strategist can go in and fix," she said.
She loves doing audits for companies as it gives an opportunity to clearly state things they can implement immediately, in the short-term, and the long-term.
"I have sections: easy to do, harder to do, hardest to do. The easy-to-do stuff is something that they can do within a day. They start seeing the return on investment in an audit. And then they see their numbers go up, or they see their customers appreciate it. It just makes sense," she said.
The power of taking risks
When Samar started her own newsletter, she didn't have many readers.
But the decision paid off: she managed to make a big impact with her popular insights and brand teardowns, which resulted in exciting new clients.
"Week after week, I think it was just building a muscle where I started noticing things, little things that nobody else was talking about, or at least not thinking about in the terms that I was. And so I started talking about that," she said.
No surprise, one of her most popular newsletter subject lines of all time was: "Abandoned cart emails are creepy as hell."
"I'm maybe averaging 900-950 people now. So that one email led to an invitation to apply for Litmus Live. And then somebody at Pinterest saw that talk. And then when they needed help with email stuff, they reached out and hired me," she said.
The newsletter was the crux of growing her business, creating a chain of events that she is still seeing to this day.
One of the mantras that Samar lives by now is "say yes now, freak out later."
Today, she's presenting at more conferences and taking greater risks.
"I had sent Litmus [Live] two ideas, and they said, would you be interested in doing both? And I was terrified, but I said yes," she said.
If your own career is heading into growth mode, take a page out of Samar's book. Listen to your gut, pursue partnerships, and take chances. You won't regret it.