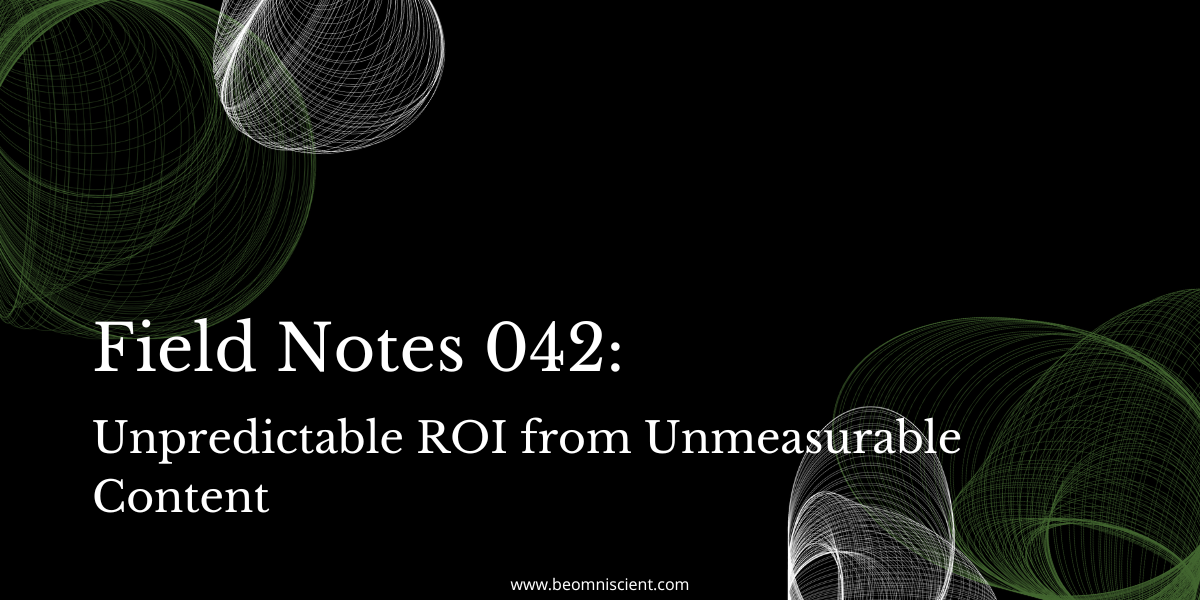 Something disappointing has happened in content: We became too reliant on search volume as a prioritization tool.
Some of us may know those search volume numbers are flawed, and they are only one axis for prioritization and developing content ideas.
Many of those tools, whether it's Ahrefs, Semrush, Keywords Everywhere, or even Google Keyword Planner lack a ton of data. Ahrefs even acknowledges that these tools have inaccurate data.
Aside from the data, you can't determine every topic worth writing about from keyword research.
The topics you identify through keywords may be worth writing about and they may bring in relevant traffic that generates demand.
But that's only one piece of the puzzle.
In previous Field Notes, Allie wrote about brand POV and content brainstorming, sharing additional methods of coming up with content ideas that don't involve keyword research. 
A question that might come up is: "But if there's no keyword research, how do I know the topic will be interesting?"
Or, "How do I justify writing about this topic if there isn't search volume to back it up?"
Fair questions.
It comes down to (wait for it…) understanding your target audience. Ask the age-old questions:
What are they interested in?
What are their challenges?
What questions do they have?
You can extrapolate content ideas from the responses you get to these questions. It requires reasoning without that objective data that would otherwise make it easy to justify your decisions.
Many companies are moving up market and selling to executives—we're seeing this first-hand with our clients. That means three things:
Because there are fewer executives in the world compared to say entry-level marketers, there is naturally going to be less search volume for topics they may be interested in.
It's going to be more important to understand what questions, challenges, and interests they have beyond what the search tools tell you.
Executives know they won't find great answers to their nuanced challenges on the internet. So they go to their network, their community of trusted experts, and their peers. Those conversations don't show up on Google search results.
Okay, so hopefully at this point we agree there's a lot more to producing content than keyword research.
But how do you know the content will perform and get eyeballs if there's no search volume to back it up?
You might call this "thought leadership content," but some call it "campaign content" because it fits into a larger campaign they're running that may involve paid social, webinars, and ABM tactics. 
All of those are methods of distribution. That's the key to getting this content in front of the right audience.
When done well, you'll reap the benefits of people sharing and discussing your content (word-of-mouth), and being influenced by what you have to say.
Here are 5 examples of how we've produced content without obvious predictable ROI that had a meaningful impact on our business.
1. We send this weekly newsletter 👋🏽. People rarely respond to these emails but a client told us it's a frequent a topic of discussion in their weekly marketing team meetings. That's invaluable. It tells us they trust us. They value what we have to say. What we have to say gives them new ideas and new ways to think about their work. (Please reply directly to this email if you have feedback!)
2. We publish a twice-weekly podcast. We regularly jump on sales calls to hear, "I listen to the podcast. It's great." We've also had guests from the podcast refer us to clients.
3. We've published blog posts on a content barbell strategy. There is no search volume about this, but it often comes up on our sales calls. One of our prospects implemented the content barbell strategy THEN hired us.
4. Our content spurs discussion. We regularly see our content, podcast, and course recommended in other Facebook and Slack communities. Does that get us clients in the short term? Nope. But it builds trust with folks who see us recommended over and over.
Yet many folks don't want to invest in content programs unless there's "predictable, directly attributable, ROI." 🤷🏽‍♂️
Remember: If doing something is obvious, everyone else is likely doing the same thing.
Fewer people are likely to do the things that are hard to measure.
That means there's less competition and more room for differentiation.
Want more insights like this? Connect with me on LinkedIn.
Recommended Reads
Generative AI's Impact on Content, SEO, and Search Behavior – With GPT4 and a bunch of other AI tools being announced every day, we got a ton of questions from clients about generative AI. Here's our take on it. I'll add the caveat that things are changing every week day, so our stance will change. We're continually figuring out how we can effectively use these tools in our work, but one thing's certain, producing great content still requires humans.
Infuse your content with a point-of-view—and more understanding of humanity, too – Great piece from Tracey Wallace that I've been sharing with clients to help them understand that creating a differentiating between "SEO content" (cheap, low-quality, dry, copycat content) and, "thought leadership content" (thoughtful, interview-based, human) will set them up for a disappointing content program.
How to Pivot From Lead Gen to Demand Gen: a CMO's Guide – This was already shared in a previous newsletter but it's so good that I'll share it again.