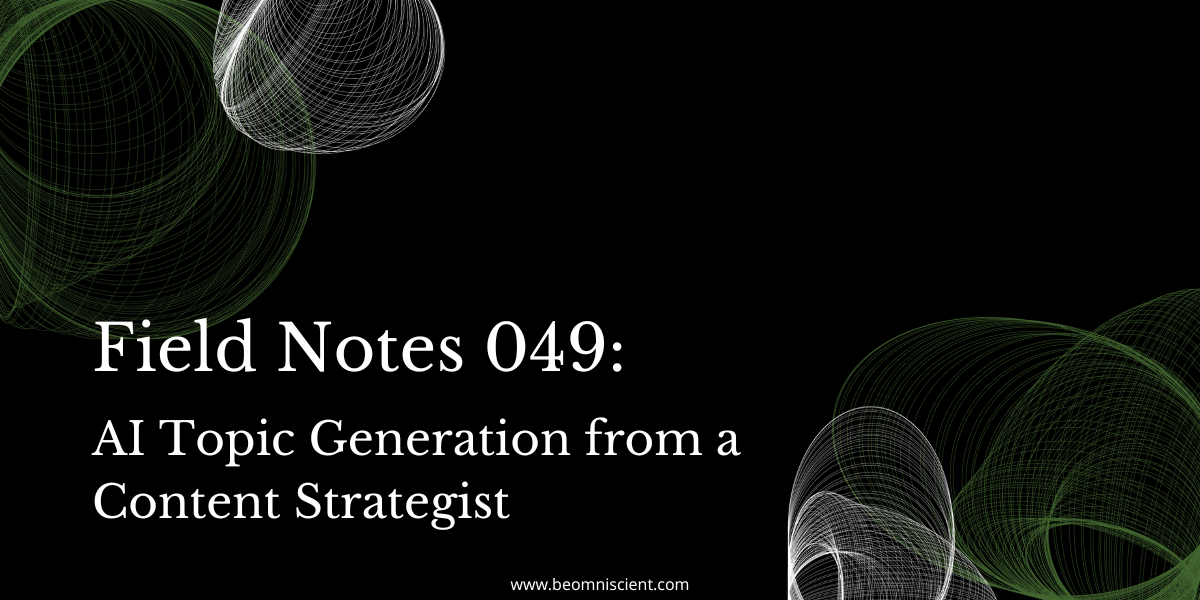 With the rise of any trend, there's a natural inclination to join the conversation and make your voice heard amidst the growing buzz. This is particularly true with AI, as evidenced by the surge of discussions on our LinkedIn feeds, Spotify Podcast notifications, and Google search results.
You might be wondering how to jump into this dialogue, especially if your company wants to incorporate AI into your workflow or is about to launch its own AI feature. Just last month, three of our clients either said that their product is rolling out an AI component or they'd like to see more AI-related topic ideas in their next 3-month roadmap we're developing for them.
As a content growth agency in tech, we've had our fair share of internal discussions and client consulting calls about the best strategies for discussing AI in a business context. And we've been fortunate to work with companies who trust our growth recommendations, even when it involves educated guesswork and skating where the puck is going.
While we don't claim to have definitive answers, we strive to consider a broad range of factors that shape our framework. This approach enables us to provide recommendations that can support other marketing initiatives you have running under the hood.
Here are three suggestions when it comes to producing AI-related content:
Topic ideas based on search intent
This is by no means a breakthrough approach.
The most reliable predictor of future performance is past performance. While it doesn't always guarantee future success, it's one of the most valuable resources we can rely on when navigating through uncertainty. And to some, uncertainty might look like low or nonexistent search volume on Ahrefs.
We've created content roadmaps across various industries over the past few years. Through them, we've observed patterns for blog content that ranks well on Google based on search intent.
We've managed to categorize search intent into four types: informational, navigational, commercial, and transactional.
Users with informational intent seek to expand their knowledge on a specific topic. AI-related topic ideas in this category could include:
What is Generative AI?
The Ultimate Guide to AI in Content Operations
How to Generate Product Descriptions with AI
How to Use AI in Real Estate
Users with navigational intent search for a specific page or website, such as:
Shopify AI Product Description
Spotify AI DJ Feature
Users with commercial intent search for a list of solutions to compare against:
Best AI Ad Copy Generators of 2023
Top AI Tools for Learning
ChatGPT vs Bard
Finally, users with transactional intent look to download or buy right away and might search for:
AI Video Editor Online
Jasper Trial
By aligning your AI-related ideas with the various types of search intent, you can effectively reach and meet your target audience where they are.
Use People Also Ask for mid-funnel content ideas
Google's Search Generative Experience (SGE) will likely dominate the "top of the fold" and capture many top-of-the-funnel informational intent searches.
Many users simply seeking a definition will likely read the Google-generated response, contributing to the phenomenon of "zero-click searches." Of course, this is bummer as companies will likely see a decrease in website clicks from organic search.
However, there are still informational queries that fall into the middle of the funnel and lead to a website click. Some users might not fully trust a sterile response generated by Google's SGE and prefer a more detailed answer to solve their problem. So instead of providing a high-level overview of a concept, we want to target specific follow-up questions or create how-to guides that require more expertise and nuanced explanations (more on this in our next point).
This is where the People Also Ask feature in Google is invaluable as we navigate this evolving landscape. Because Google's SGE can handle full questions in the search box, we can use the questions prompted from People Also Ask to identify more middle-of-the-funnel ideas.
And while search might not immediately display "AI-related" questions due to how early we are into this technology, we need to think creatively about our topic ideas.
By including an AI angle to these questions, we can identify ways to update existing articles or create new articles that center the new AI-feature your company is rolling out. For instance, we can transform "How to Create Product Descriptions" into "How to Create Product Descriptions at Scale Using AI."
AI is not an experienced expert
While AI can perform impressive tasks like summarizing key ideas, rephrasing entire college essays and providing comprehensive definitions, it lacks the ability to speak from personal experience.
People tend to trust other people more than brands, and certainly more than AI (at least, I hope so). This is one reason why Google updated their web content assessment guidelines from E-A-T to E-E-A-T.
The extra E stands for Experience and implies that the author has firsthand knowledge of the topic they're writing about.
In a world where anyone can generate content using AI tools, it's increasingly clear that to set our content apart, we need subject matter experts to share their experiences. We accomplish this for our clients by conducting interviews with internal SMEs and baking those experiences into our content deliverables. Additionally, our team tries to get close as possible with your product in order to showcase screenshots that might highlight a process or feature that those SMEs reference.
Of course, new technology does level the playing ground briefly for those self-proclaimed "experts" to step in. But at the end of the day, we'd still likely trust a marketer with ten years of experience experimenting with AI over one who only has a couple years of experience—or none at all.
As AI becomes more integrated into our processes across industries, it's important to share clear explanations and examples of how this technology enhances our work.
Moreover, we can share our thoughts on potential challenges and trade-offs related to using AI technology. This approach can showcase our own thought leadership in a space where generic content could become more common.
With any major shift in tech, we must be prepared to adapt and roll with the punches. Those slow to adjust may survive, but those who take decisive, intentional action to stay at the forefront are more likely to thrive.
Want more insights like this? Connect with me on LinkedIn.
Recommended Reads
What makes content valuable in an AI world? by Kevin Indig
SEO the age of AI means Product-Led SEO by Eli Schwartz