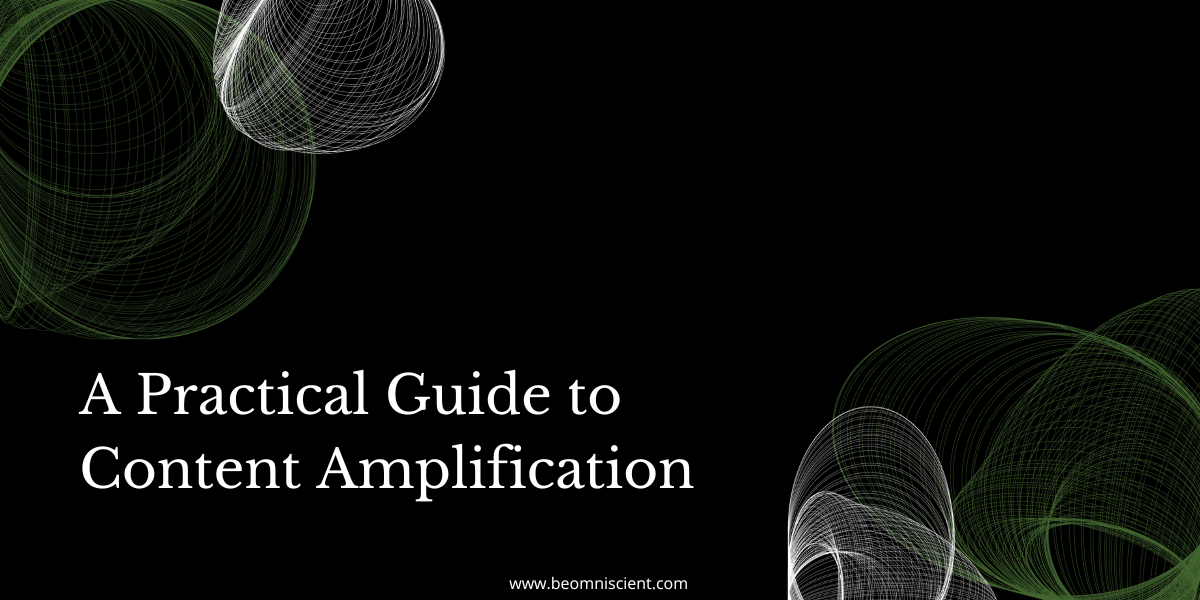 Ever feel like you've spent an eternity creating the perfect piece of blog post–only to hear nothing but crickets?
It's enough to make you think one of two options:
There must be a marketing secret I don't know *yet*
But despair not; there's a remedy – content amplification.
It's the secret weapon to reaching wider audiences without overwhelming your marketing team with endless content deadlines.
In this article, I'll unveil the four powerful ways to amplify your content and get your brand noticed.
So without further ado, let's get started:
What is Content Amplification?
After you've published your article, there are two main methods to get your content in front of your target readers: promotion and amplification.
Content promotion focuses on organic reach–i.e. when you promote content to your existing following.
(Think: posting on social media, sending an email newsletter to your list and updating your website's blog.)
This is typically the type of spike in traffic your promotion strategies will create:
A content amplification strategy, however, aims to maintain engagement and relevance long after publication date.
Provided, you've amplifying your content effectively, you should hope to see a compounding growth like this:
A great content strategy always attempts to employ a little of both promotion and amplification.
You want to give your content an initial boost to notify algorithms of its quality and influence. But, as these initial energy wanes, it's important to also find ways to maintain the momentum without having to start from scratch each time.
The Four Main Ways to Amplify Your Content
Content Repurposing
Repurposing is when you change existing content from one format to another.
It often happens when you divide long-form content, such as whitepapers or podcast interviews, into shorter formats, like Twitter or LinkedIn posts.
The philosophy of repurposing content is simple: why post a high-quality asset only once when you can reach 20x the audience by leveraging other online platforms?
By splintering your content into smaller chunks, you can also increase the chances of hooking your readers by experimenting with various different appeals:
A great example of repurposing in the SaaS space comes from the event management tool, Lasso.
Just look at the results their marketing manager, Jess Cook, shared on the "Content, Briefly" podcast:
"Twelve times more people saw the repurposed content than saw it in its original form. And that's a really nice benchmark that we're trying to hit or exceed."
Again, they've taken long-form assets and found creative ways to incorporate them into their social content calendar:
Content Syndication
Content syndication is one of those intimidating and complex terms that sound like much more trouble than they're worth. But, in reality, it simply means to post your existing content–in-full–on other platforms.
The beauty of syndicating your content is there's very little extra effort required. You take existing content that's performed particularly well and you share it to other platforms.
According to Hubspot, you can break content syndication into four main categories:
Some of the most popular locations for content syndication include:
Blogs posts → LinkedIn newsletters:
Just look at the growth of OrbitMedia's LinkedIn Newsletter:
"Immediately after sending the first edition, we had a few hundred subscribers. That grew to 100k within the first 10 months. After two years, we hit 175k subscribers. People started asking if this was our main channel for marketing."–Andy Crestodina
Blog posts on personal website → Blog posts on big publication
Instead of gambling on unproven pieces, oftentimes big publications will prefer to syndicate top-performing content.
Unsurprisingly, there are several positives from both parties. The publications get exciting content that will create some buzz and the creators get more eyeballs on their work.
As James Clear shares, syndication can result in very tangible growth for your following:
"… an article that originally ran on my site and then was re-published by Lifehacker later on. I gained over 600 subscribers from the Lifehacker version, and I didn't have to put in any additional work writing a new article."
Blog posts → Niche Sites and RSS feeds
And if it's too difficult to get your work published on a big name website, there's always smaller syndication sites to consider.
The fastest way to discover syndication opportunities is to search make a search like this into Google:
Topic + ("originally published") or ("write for us") or ("contributor guidelines")
Top tip: Study the community before promoting your own stuff. Always make sure to follow the contribution guidelines.
Influencer Collaboration
According to Hubspot, influencer marketing has been a seriously popular way to distribute content for B2B:
Most B2B marketers — 71% — planned on investing more in influencer marketing this year, and likely was a wise choice as this avenue will continue to grow in 2023.
And it's hardly surprising why. What better way is there to amplify content than to share it amongst a collection of influential folks with their own followings?
This is exactly what the team at Omniscient did for Wordable.
Instead of publishing a few generic articles to their small audience, they sought to create a little buzz by creating "The Content Crafters" interview series.
The beauty of this approach was that it hit two birds with one stone: engaging thought leadership content with a baked-in incentive for influencers to promote.
And… What starts as simple content promotion, becomes a larger amplification strategy as the backlinks started to accumulate:
You're not limited to podcasts either, this is frequently used as a solid strategy to build authority and attention to long-form whitepapers and e-books.
For example, this piece by S&P Global Market Intelligence: "Data and Digital Transformation: Insights From Shipping Leaders". It includes quotes from six of highly influential SMEs from several different international markets.
Paid Promotion
Out of all the four amplification strategies, paid promotion offers the most control–by far.
You can reach lookalike audiences of your ideal customer profile to an exacting degree. And there's a variety to choose from depending on your specific content goals.
For example you could promote your newsletter on Twitter:
Promote a piece of popular product-led content in a competitive Google SERP:
Or you can even use widget recommendations like Taboola or Outbrain to get your content on dozens of sites including Business Insider.
How to Amplify to Your Content (4 Key Tips)
Regardless of whether you choose repurpose, syndicate, influencer marketing or paid promotion–there's a few principles that will help you get the most out of your amplification efforts:
1. Nail Your ICP (Ideal Customer Profile)
Before you even think about amplification, you need to know who you're targeting and what you want them to do.
This means figuring out the purpose of your content and how it fits into your larger content strategy.
So, start by defining your target audience. Understand their interests, pain points and their JTBD (Jobs-To-Be-Done).
This will help you to make sure any content you choose to amplify is first and foremost relevant to your audience.
2. Amplify What's Already Working
When deciding which content to amplify, it's smart to start with what's already resonating with your audience.
The math is fairly conclusive:
High-performing content + Amplifier = Huge Success
Low-performing content + Amplifier = Huge Failure
Although amplification strategies require less effort than starting our content creation process from scratch, it's important to avoid wasting time and attention pushing sub-par content.
While your earned following may trust everything you make, it's unlikely a wider audience will be so lenient.
Top Tip: As the B2B wizard, Jay Acunzo, often professes it's super important to prioritize resonance over reach. A great way to do this is often to look into the qualitative feedback on our content, for example responses to our email newsletter or comments on a social post.
3. Prioritize the Right Channels
One of the biggest problems marketers run into when attempting to amplify their reach is that they spread themselves too thin.
They try paid social. Then move on to pitch their blogs to big publications. Then they attempt to create Gary Vee-style TikToks.
And the problem is that they never slow down enough to get good results with any of them.
At Omniscient, for example, growing the email list–Fieldnotes–is a priority. It's a key metric nurturing prospects into paying customers. Therefore it makes plenty of sense to double down on this as a key amplification strategy.
This is why they've decided to syndicate the content for their blog. (A great low-effort way to increase organic traffic.)
4. Map Your Content Distribution Universe
Amplification means placing your content in channels they'll be seen.
This means that although you could invest in local newspaper ads–it's probably not a wise digital marketing strategy. It's very likely not where your ideal reader hangs out.
It's much more likely they'll get their news from specific influencers, social media platforms, publications and niche communities.
As Alex Birkett shares, this is why it's crucial to map the "Content Universe" of our ideal readers:
"It's about mapping your "universe," the center being your ideal clients, but the outer rings being those secondary and tertiary audiences that they follow."
Top Tip: SparkToro and BuzzSumo are two great content amplification tools for exploring key influencers and publications within your niche.
Monitor and Adjust
Remember, data is your friend.
While it can be tempting to post, promote and forget, great amplification is often a more long-term effort.
It's about assessing your top-performing owned and paid media assets and squeezing as much energy as you can.
Just look at how Hubspot A/B tests their paid social media channels. Rather than just post one ad, they are constantly seeking to perfect their messaging with dozens of experiments.
The result is that instead of an initial spike, Hubspot is consistently trying to grow the maximum possible output from each paid ad and social media post.
Conclusion
You've already put a heap of time into creating excellent content. You may have also invested your time and money into promoting it. Therefore, you at least owe it to your readers to do everything you can to get it in front of them.
Rather than quit right at the last hurdle, why not go all the way and get your target audience to actually read your content?
Whether it's a whitepaper, podcast or blog post–repurposing, syndication, influencer marketing and paid promotion–are solid content amplification strategies to reach your ideal audience.
And, if you're lucky, it may just be the beginning of a long fruitful relationship–as they delve deep into your content library and explore your products.