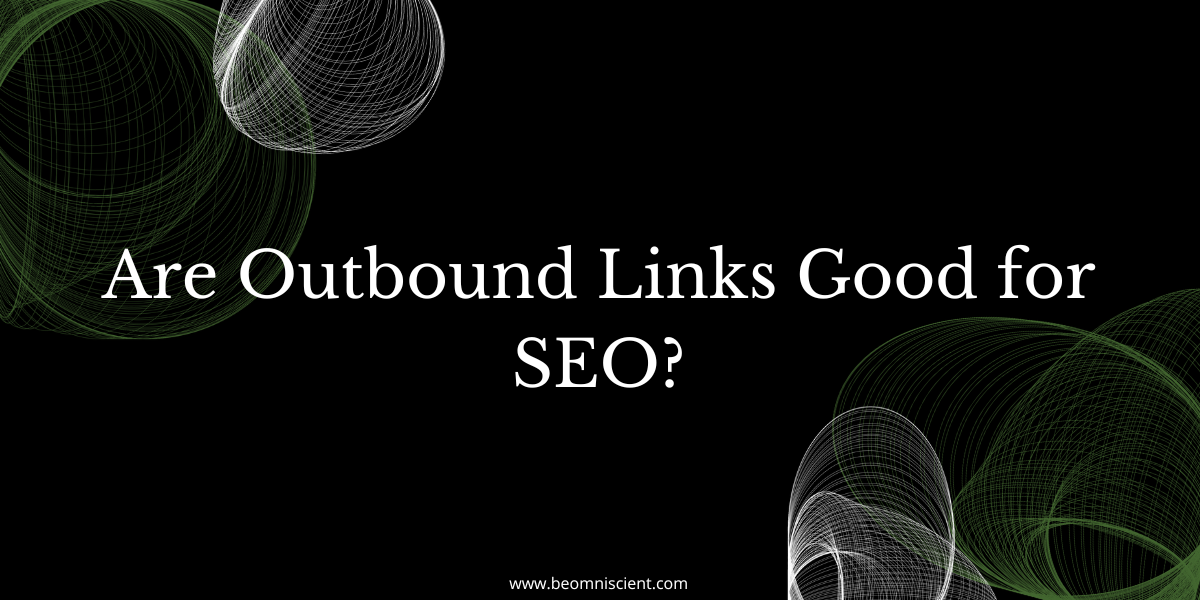 Some webmasters are hesitant to create outbound links because they fear that their users will navigate away from their site or that it will hurt SEO.
As an outreach specialist who's built hundreds of links, I didn't realize there were concerns about outbound links until I met a few potential partners who had negative reactions to my requests to link to other sites. That's when my curiosity started. So I decided to do some research and dig a little deeper on whether outbound links had a negative effect on SEO ranking.
In this article, I will be sharing my research about Outbound Links through the lens of Google's algorithm and expert opinions to hopefully dispel some myths and concerns. Specifically, we'll be looking at:
What are Outbound Links
PageRank and SEO
PageRank vs CheiRank
Why use Outbound Links?
When to use Outbound Links?
Outbound Link Best Practices
What are Outbound Links (Clarifying the Terminology)
Outbound links are links that take users to another domain or website from the source page. Sometimes known as external links, these can be links that point towards (inbound) or away (outbound) from your site. We refer to the direction as inbound when these links take users from other websites to your website. Their direction is outbound when these links take users away from your website to other websites.
Let's discuss these types of links in more detail.
Inbound External Links
Inbound external links are outbound links from another website to yours. These are essential for improving domain authority, establishing credibility, and increasing the organic visibility of your website. This is usually what is meant in SEO by building links to your site.
Outbound External Links
Outbound external links are links from your website to another domain. They provide more context for the content on your web page and allow users to understand a topic more thoroughly. They also direct readers to other sources that can provide supplementary information to support the subject discussed.
Additionally, these are known as authority links because your web page links to other authoritative sources or websites. By linking to websites with established authority, the credibility of your website/content can be increased as it shows that you have used trusted sources to publish your content.
These links, both inbound external and outbound external, affect your website and pages' PageRank.
PageRank and SEO
In a nutshell, PageRank is the strength of your inbound external links as we defined above. Google's PageRank algorithm was originally filed on September 1, 1998 and became the keystone that Google used to determine the importance of a web page. In other words, Google was created based on Sergey Brin's notion that a website's ranking could be based on its link popularity- in essence, the more links that point to a page, the higher it would rank.
Your website's SEO is largely dependent on how easily and quickly your potential customers can find your site through a search engine query. If your PageRank is high, it is more likely that a customer will find you.

Although you can no longer view the PageRank score for web pages, Google's PageRank algorithm is still an important ranking factor for web pages in the search engine results. However, it's important to note that this algorithm has changed over time, as there are now over 200 other SEO ranking factors to determine the placement of sites on its search engine results page.

PageRank vs CheiRank
Most SEOs focus a lot on only PageRank since most of link building is focused on building inbound external links, but miss its opposite – CheiRank.
What is CheiRank?
CheiRank is a measure of the importance of a page based on its outbound links. It's the inverse of PageRank, which measures the importance of a page based on its inbound links. In other words, while PageRank measures the "strength" of incoming links to a page, CheiRank measures the strength of outgoing links from a page.
CheiRank is relative, meaning it's most likely measured in comparison to all pages within a domain. This makes it useful for determining important hub pages, for example. So, in short, you could equate "communicativeness" with the number of outgoing links on a page.
Why use Outbound Links from Your Website?
Although there is some debate about the effectiveness of outbound links in SEO, many experts believe that they can be helpful. When talking about this topic, it's better to get an expert's insights. When it comes to SEO, one of the best out there is Kevin Indig.
Kevin Indig is a strategic Growth Advisor, creator of the Growth Memo newsletter, and host of the Tech Bound podcast. He ran SEO organizations for companies like Shopify, G2, and Atlassian, consulted for big brands like Ramp, Eventbrite, and Finder, and is an active angel investor.
In fact, we've extensively spoken with Kevin about various SEO growth strategies in our Office Hours and the Long Game podcast.
Images below are Kevin Indig's insights on PageRank and CheiRank that I found insightful:


As you can see, it's best practice to balance CheiRank and PageRank so therefore a good SEO practice to always include some outbound links. Of course, we don't want too many of these. Having too many causes your websites to appear as a link farm or spam site which can potentially hurt SEO.
One of the most popular plug-ins in WordPress to help improve your website's ranking on search engines is Yoast SEO. You are required to add at least one outbound link to your page or else you'll get a warning in your Analysis results. For them, having an outbound link on your pages is a must to rank in search engines.


While we should never rely on the recommendations of one tool, this is yet another indication of the importance of placing outbound links.
When to Use Outbound Links?
Outbound links can be considered references or sources of information for your content. For best results, use outbound external links when providing:
In-depth explanations
Quotes
Statistics
Other supporting evidence such as infographics or original research
If you're not sure about using outbound links in your SEO strategy, consider how important citations and references are in real life. Just as you would use reliable sources to support your argument in a paper, you can use outbound links to support your content.
Outbound Link Best Practices
According to Google, link building is one of the most important factors for achieving high rankings, you must understand how to use outbound links to your advantage. Here are the best practices for outbound links to follow.
Link to High-Domain Authority Websites
It's important to link to high-authority domains when adding outbound links to your website or web content. These websites are ranked highly for a reason: search engines have already determined that they are credible and authoritative sources. Only add outbound follow links that are relevant to the topic and flow with the rest of the content; if you try to force in unrelated or unnatural links, it will have a negative effect.

When linking to other sources, it's crucial to consider the reputation of the site in question as well as the quality of its content. This will ensure that your readers have a positive experience. Most of the domains always want to connect to sites with at least 50 DR (Domain Rating) in Ahrefs and with a good amount of traffic. Some of my partners would prefer DA or Domain Authority > 30 and a Spam Score of less than 5%, which you can check using Moz's Domain SEO Analysis Tool.
Link to relevant sites
When choosing external links to add to your content, be selective and consider only those that are most relevant. Keep in mind that readers will appreciate links to content that is useful and informative. Quality over quantity is always best. Quality content helps to attract the right audience to your website, engage them and work towards getting the user to take action on your website.
In addition, Google and other search engines prioritize user experience and aim to provide the most relevant results to their queries. Therefore, linking to related websites within your niche helps Google understand the popularity and usefulness of your content, which may positively impact your SERP ranking.

Use the nofollow tag if necessary
Usually, outbound links that are relevant to your page should be set as dofollow. However, in special circumstances, you can choose to set a link as nofollow. The rel=nofollow attribute tells search engines not to pass link authority to an external link. You can use the nofollow link when the outbound links in your content are not placed organically, such as when they're due to sponsorships, advertisements, or user-generated content in public comments and forums. This provides context about the linking page to the link target but does not pass PageRank.
Conclusion
Outbound links can be beneficial for SEO, as long as they are done correctly. As we found in our exploration of CheiRank, it can be important to build outbound links from a page. If you link to high-quality websites within your niche, it can improve your credibility and reputation. Search engines and readers will see you as more trustworthy and credible if you're associated with high-Domain Authority websites. So even if it's just through outbound links, make sure you're linking to quality websites to improve your own reputation.