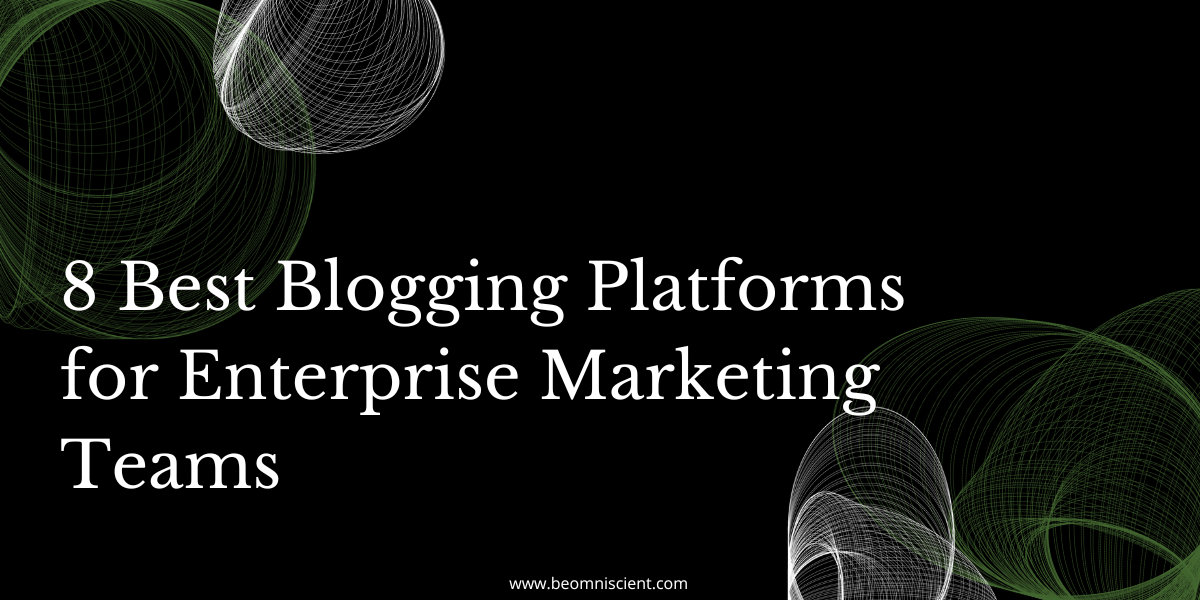 I've never heard of a marketing team that enjoyed migrating its blogging platform.
They usually have to do that because they chose the wrong blogging platform to begin with. It's the price to pay for not considering the long-term consequences of choosing the wrong platform.
You might decide that you only need one CMS to manage all your website content. For example, WordPress is great for this.
In some cases, a company might have to use a separate platform for their blog due to technical limitations (or complications). Examples include e-commerce companies who don't like Shopify's blogging platform and have to set up a separate WordPress instance on a subdomain. Some companies had developers choose the content management platform and it later turns out that marketers couldn't publish or update blog content without the help of developer.
It's cases like that when a team ends up having to migrate their blog to another platform.
Here's how to evaluate popular blogging platforms for marketing teams to avoid having to migrate to another platform down the line.
How to Evaluate Blogging Platforms
When it comes to evaluating blogging platforms for marketing teams, there are six key criteria and functionalities to consider:
Ease of use. Is the user interface easy to use so the marketing team can easily create and manage blog content without needing developer support? This will be important so the marketing team isn't dependent on developers and can move quickly.
Editing interface. This seems silly to be a key criteria but you'd be amazed at how bad and unintuitive some editing interfaces are. Make sure it's easy to produce and edit your content without headaches. For example, you don't want a buggy platform that doesn't auto-save your work.
SEO. Is it easy to optimize your content for search engines? Are SEO tools integrated into the platform or can you integrate with third party SEO tools? This is a must-have. Otherwise, it doesn't matter how great the content you publish is.
Integrations. Does the blogging platform integrate with other marketing tools you use? This will allow for customizability and scalability. For example, can you integrate with a content optimization tool? Or can you integrate with social media tools to make it easier to distribute your content?
Publishing workflow. Does the blogging platform make it easy to follow your team's publishing process? For example, can you collaborate within the platform? Can you schedule content to be published at a later date?
Analytics. Does the blogging platform offer analytics and insights into how your blog is performing? Or does it make it easy to integrate with other tools to make those insights (charts, automated marketing reporting, dashboards) more accessible? For example, WordPress has a Google Site Kit integration that makes it easy to set up Google Analytics and Google Search Console and view that data within your WordPress admin dashboard.
So what are the best blogging platforms to consider?
Enterprise-Ready Blogging Platforms
WordPress is the most popular blogging platform and offers a host of features and endless flexibility. There's a huge ecosystem of developers, free themes, and plugins to help you set up your blogging platform to be exactly what you need. The Gutenberg editor provides a drag-and-drop editor that makes it easy to format your content the way you like.
The WordPress.org platform is free and open-source for self-hosted options so you only need to pay for a web hosting service. We recommend Kinsta. Here's why it's the best WordPress hosting platform and why I moved all our websites to Kinsta (they have amazing customer support). WP Engine is another hosting platform to consider.
If you don't want to go self-hosted, you can spin up a managed WordPress instance at WordPress.com. You can create a free account to test out the platform, but you can't use your own custom domain name until you upgrade to a paid plan.
Our favorite WordPress plugins include:
HubSpot CMS Hub is a powerful content management system that allows marketing teams to create, optimize and track content across multiple channels.
They provide a user-friendly, drag-and-drop interface so it's easy to format your content exactly the way you want it. The platform is also mobile-friendly to ensure your content looks great no matter what device it's viewed on.
CMS Hub is one of the few blogging platforms that has SEO functionality built into the platform itself.
If you're already using HubSpot for marketing or sales, it's a no-brainer to use the CMS as well because everything is fully integrated. That will help remove the headaches of setting up third-party integrations across tools.
Disclaimer: Our founding team are all ex-HubSpotters.
Webflow provides is a highly customizable, advanced site builder. Due to the extreme customizability, you can create, launch, and manage beautiful websites without any coding skills.
It's visual editor allows you to make very detailed changes to page formatting. The level of customizability can be so extreme that there's a steep learning curve and it may not be the easiest platform for non-technical marketers.
However, if your marketing team has some technical chops (or has the bandwidth to review their Webflow University tutorials), you'll be able to use Webflow to scale your content program and publish hundreds of pages of content easily.
Use Cloudpress to seamlessly export content from Google Docs to Webflow.
Craft CMS is a content management system that is both powerful and easy to use. It has an intuitive interface for creating and managing website content.
It comes packed with advanced features such as multi-language support and a templating system which enable you to scale up your content program.
Craft CMS also offers provides plenty of customization options, so you can pull your development team to do more advanced customizations if needed.
Contentful is a API-powered content management system (aka a headless CMS) that makes managing website content extremely easy for developers, though a little more difficult for non-technical marketers.
However, if your marketing team has some technical chops, Contentful allows you to store, manage, and deliver structured content across a variety of channels, including web and mobile apps.
Because Contentful is a headless CMS, meaning the content is decoupled from the platform, you can integrate it with other popular CMS platforms.
Contentful is a great blogging platform if the marketing team has technical chops and/or has dedicated development resources to work with. If so, it's a powerful tool to help scale your content and SEO program.
Use Cloudpress to seamlessly export content from Google Docs to Contentful.
Ghost.org is another open-source blogging platform and content management system. Like WordPress, Ghost has an ecosystem of themes and integrations so you can customize your blog to your liking. Their platform is built with privacy, security and speed in mind so you know you're building on a scalable platform.
While Ghost's positioning is primarily for creators, they also have a business plan. A big difference between Ghost and WordPress is Ghost provides their own hosting service so you don't have to deal with paying for a separate web hosting provider.
Not enterprise-ready platforms, but easy to get started
These blogging platforms are not a good fit for enterprise companies but worth calling out for beginners or if you're just getting your website up and running. Chances are you'll need to migrate to a more scalable and customizable platform like WordPress down the line.
Many of these platforms used to offer free plans but now only offer free trials and paid plans.
Squarespace's platform caters more to businesses that need a simple website. It's best for companies that are just getting started and need a great-looking website without all the fancy features and customization. They're a better fit for small online stores and personal blogs than enterprise companies.
Wix is also optimized for small businesses that need an easy-to-use website builder. Over the years they've shifted their focus to serving e-commerce stores and local businesses which is reflected in the platform's simplicity. They also provide fully integrated business solutions like email, ad optimization, and a CRM.
You may know Medium as the platform to read content from high profile people like Barack Obama or lesser known, though still amazing creators like Julie Zhuo.
Medium also provides a blogging platform. It's the least scalable and not preferable for any business, but provides a quick way to start a blog if you don't need any design or customization and just want to publish content immediately.
The upside to Medium is the built-in audience and the potential to get discovered through their content library.
You will 100% have to migrate to another platform down the line.
Which platform will you go with?
At the end of the day, it's important to consider your needs before selecting a blogging platform.
For enterprise companies that need scalability and customization options, WordPress is usually the best bet.
If you're just getting started with creating an online presence or have limited technical chops in-house, Squarespace and Wix are great places to start.
And if all you want to do is get content out quickly without any design considerations then Medium might be for you—just keep in mind that eventually, you'll need to migrate elsewhere down the line.