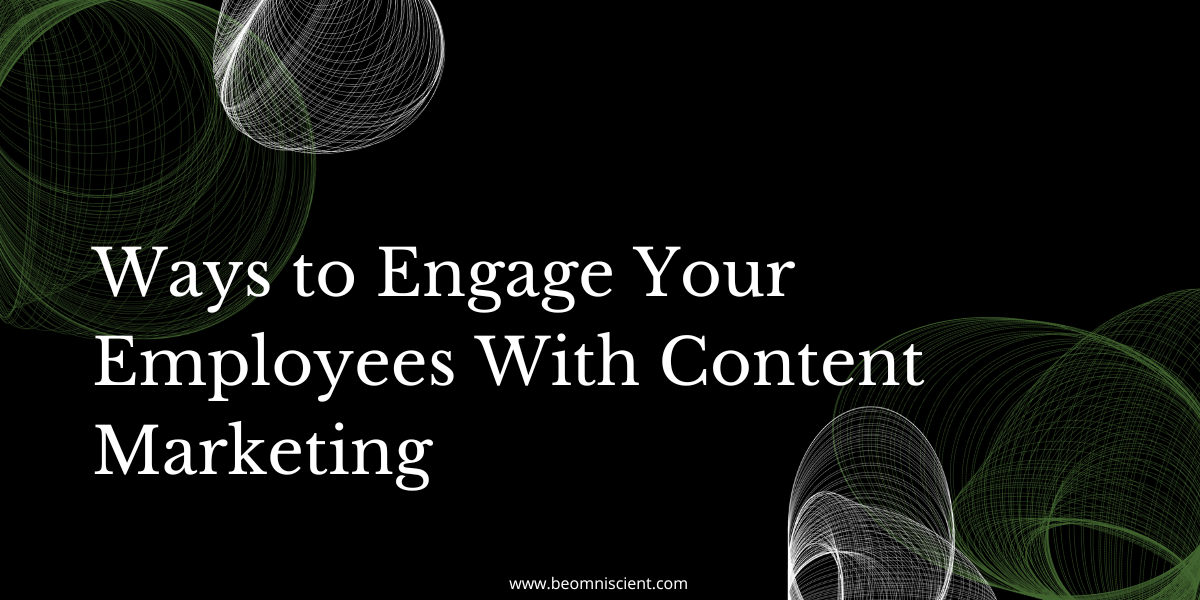 7 Ways to Engage Your Employees With Content Marketing
According to a Gallup survey, only 33% of employees are engaged; however, engaged workers care more about the products and services their organization provides and perform better. So, if employee engagement is directly related to performance, organizations must prioritize employee engagement.
However, determining what constitutes an "engaged employee" can be difficult. According to the same report, there are twelve engagement elements, ranging from employees knowing what is expected of them and their opinions seeming to matter to understanding their organization's mission and having the materials required to do their job.
Employee engagement is one of the essential tools in the arsenal of any organization. Regardless of the company's industry, optimal employee engagement is critical to its long-term success. An organization that cares about its employees' well-being should have an effective employee engagement strategy. Contrary to popular belief, higher employee engagement leads to higher customer satisfaction, higher sales and turnover, and long-term loyalty.
Why is Employee Engagement Important?
Employee engagement provides numerous advantages to a company. It boosts productivity, increases employee retention, reduces absenteeism, and more. However, one of the most underappreciated aspects of employee engagement is its role in marketing. When developing a marketing strategy, any organization considers its goals, target audience, the type of content it aligns with, and much more.
As it happens, improving employee engagement is one of the most significant ways to market your company. This contributes to a positive perception of your company and turns your employees into loyal brand ambassadors.
How Do Employee Engagement and Content Marketing Intersect?
Content is essential for marketers. Whatever your engagement goal is, whether it's sales, leads, conversions, or downloads, good content is the way to go. However, more than good content is needed. You must have effective strategies to ensure the content reaches the intended audience.
Using your employees is one of the simplest and most effective ways to ensure your content does not fall through the cracks. At Omniscient Digital, we call this Decentralized Content Marketing. It's the concept that including your employees in your content marketing strategy will help you boost your brand's visibility. This strategy humanizes your faceless corporation and leverages the network of your employee's individual connections. As you improve employee engagement, you will undoubtedly instill in your employees a sense of brand ownership and pride in being a part of your company. As a result, you earn their loyalty and improve employee retention.
How Can Content Marketing Be Used to Increase Employee Engagement?
Here's how to combine employee engagement and content marketing to achieve long-term business objectives:
1. Using Employee Influence
In the current climate, influencer marketing is at an all-time high. For content marketing, every business, large or small, relies on influencers. Organizations have realized that platforms such as Instagram, TikTok, and Facebook are the most effective ways to spread brand awareness. Influencer marketing, when done correctly, can yield significant results.
However, extreme caution should be exercised when selecting an influencer to promote a brand. If an influencer has a reputation for selecting brands solely based on the rewards and without giving any thought to their ideology, it is best to avoid such public figures. The alignment of ideologies should be the primary focus, not the influencer's popularity.
2. Sharing Company Content
Suppose your company is committed to evolving and upgrading. In that case, it is highly likely that your organization already has a social media policy outlining the dos and don'ts of appropriate social media practices and brand messaging frameworks.
Make changes to existing policies and allow your employees to share company content on social media. This will allow company content to reach a large audience and raise employee awareness of the company's principles and voice.
3. Add Color to the Company Blog
A well-maintained and updated company blog is an excellent tool for driving traffic to your website. Including employee blog posts is an effective way to add authenticity to the account. Most of the time, your target clients need a deeper connection to the CEOs. Most people, on the other hand, are bound to feel connected to the employees. As a result, adding diversity to your blog by including employee guest posts will allow you to reach a larger audience.
Every employee desires meaningful work and recognition. By showcasing your employees to the world through their content on your blog, they will receive the recognition they deserve for their efforts.
4. Public Recognition
Nowadays, where social media is such an essential part of our lives, it is only official if it is Instagram official. When your employees do a good job, publicly recognize and acknowledge them on official social media accounts. This acknowledgement could be as simple as tagging them in a tweet.
It may appear small, but it will make your employees feel incredibly valued and appreciated. Your audience, on the other hand, will get the impression that you care about your employees and are willing to admit it publicly. It may appear to be a simple song to perform, but its impact is quite powerful.
5. Targeted Content Marketing Among Employees
When we talk about content marketing, we are primarily concerned with getting it in front of the right people. However, this strategy works both ways. Internal content marketing is an excellent and cost-effective method of increasing employee engagement. It would help if you concentrated more on creating informational, simple-to-understand, and educational content for employees. This internal content should empower your employees and help them advance in their careers.
Use internal content to educate and engage your employees through communication channels such as email, office intranet, newsletters, and more. Furthermore, your employees must understand and believe in the company's values and goals in order to advocate for them.
6. Employee Advocacy Reward
When an employee or team performs well in a specific term or exceeds expectations, recognize them. You can also increase employee advocacy by incorporating employee rewards or corporate gifts.
This practice is sure to make employees feel valued. The appreciation and thought behind the gesture, rather than the monetary value of the reward, add value to the employee. Employee incentives are an excellent way to increase employee engagement. Did you know that employees who receive corporate gifts are more likely to share them with their social media friends/followers?
7. Employee Feedback And Criticism
Employee suggestions and feedback are frequently highly beneficial. They are intelligent, resourceful, and will have a unique perspective that higher-level officials frequently need to gain.
Employees know more about your company than you think. This hands-on knowledge and experience will lead to insightful feedback that you would otherwise miss. It is also an effective method of increasing employee engagement because it makes them feel included and part of a team. You can also share beneficial feedback on your company pages. Isn't user-generated (in this case, employee-generated) content the best?
3 social media engagement tools for employees
1. Amplify
Hootsuite Amplify is a specialized tool for social media employee engagement. Employees can easily share approved social content from their desktop or on the go with an Amplify mobile app.
Add new social content to Amplify when it is ready to post. You can organize the content into topics so employees can easily find it relevant to their roles and interests. Employees can log in at any time to see what new content is available and share it with a few clicks.
Many world's leading businesses use Workplace by Facebook as a workplace collaboration tool. With so many employees already using it daily, it's a critical communication resource for employee engagement programmes.
You can post Amplify content to specific Workplace Groups by connecting Amplify to Workplace. The workplace can also be used to generate new content ideas. What kinds of topics are employees already discussing? What type of content do they share amongst themselves?
You must track your results and learn as you go to grow an effective employee engagement program. It would help if you comprehended your employees' sharing habits and the impact of the content they share.
You can create custom, easy-to-share reports with Hootsuite Analytics. They assist you in determining what works best for your programme and demonstrating its worth to your boss.
Conclusion
We have begun to demand engaging content at every opportunity subconsciously. But the truth is that we are so used to seeing content everywhere that it is becoming increasingly difficult to produce creative and engaging content.
To stay ahead of the curve, one must be creative and use every resource available. Using content marketing in combination with employee advocacy is an effective method, both for external marketing and internal engagement.
FAQs
1. What are some practical methods for increasing employee engagement?
Businesses can increase employee engagement in the workplace in various ways:
Make opportunities for career development and growth available. This could include training and professional development programs and allowing employees to take on new challenges and responsibilities.
Create a positive and supportive work environment. This includes fostering an open and welcoming environment and encouraging collaboration and teamwork.
Encourage open dialogue and feedback. Employees should feel free to express their ideas and concerns, and management should be ready to listen and act.
2. How can businesses use social media to increase employee engagement and foster a customer-service culture?
Companies can use social media to increase employee engagement and foster a customer-service culture. Numerous employee engagement ideas are available, and many involve social media and user-generated content in some way. Employee engagement campaigns can be internal, external, or both. Employees can participate by posting to their social media accounts with a specific hashtag or "taking over" the company's social media accounts and posting there. Great content created by happy employees is at the heart of all of them.
3. What are the most significant methods for integrating content marketing with other aspects of your business?
The first step is integrating content marketing with other aspects of your business by incorporating it into strategic business planning. The foundation of content marketing is establishing an objective, followed by selecting the appropriate metrics to measure how each element achieves this goal.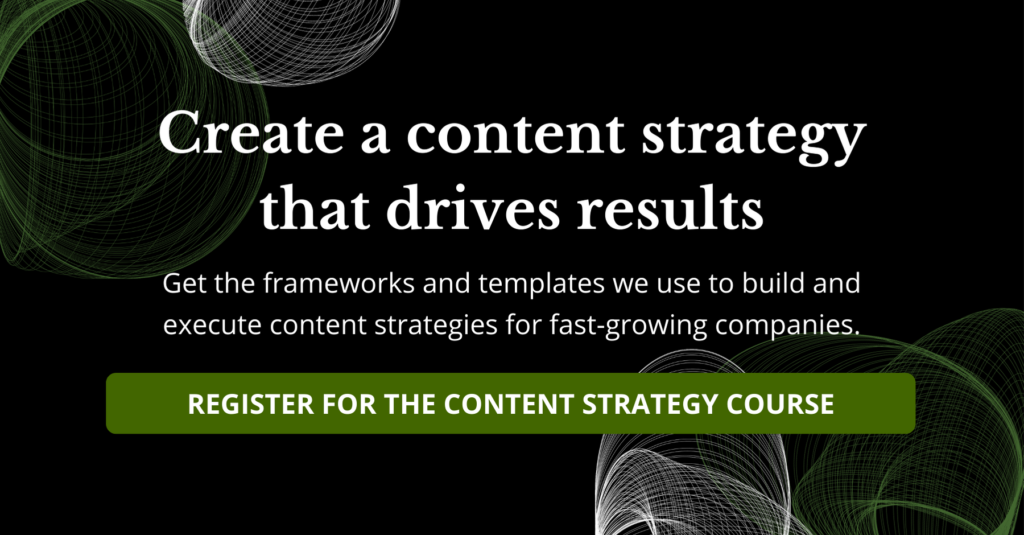 About the Author: Aishwarya Khan Bhaduri is the Content Manager at Engagedly Inc., an award-winning people strategy platform. She is an experienced leader, digital & content marketer, consultant, writer, and editor with a demonstrated history of working in the HR, B2B, SaaS, B2C, leisure, food, and tourism industry. Aishwarya is also a certified yoga teacher, pranic healer, and spiritual practitioner.