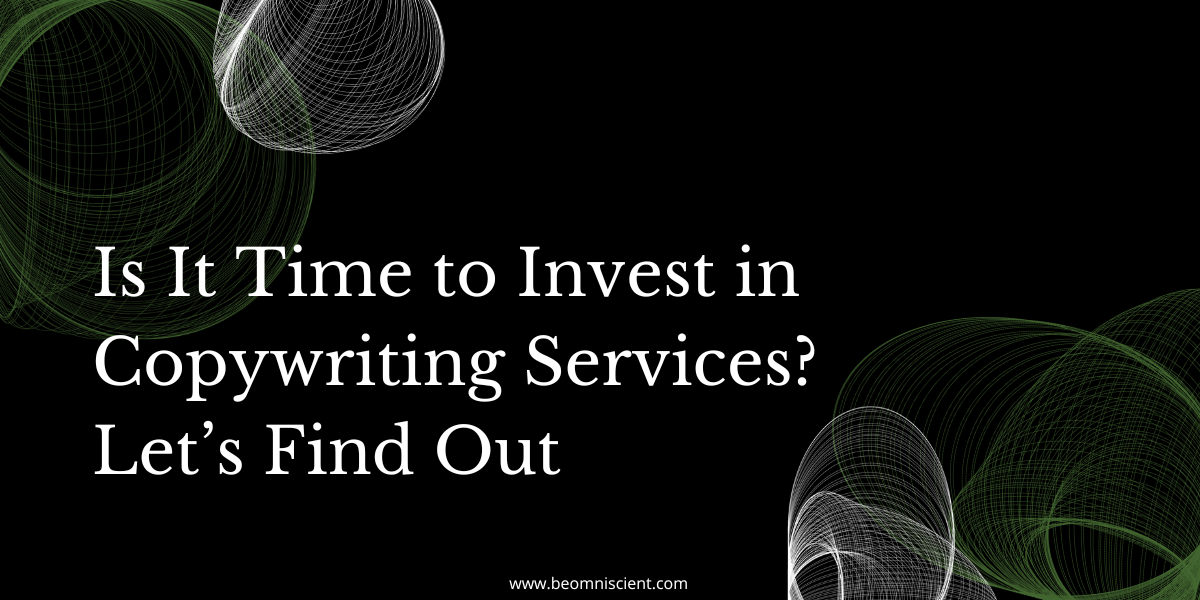 Hiring a copywriter is an investment in your brand and marketing strategy. A copywriter is a pro in understanding your company's story, audience, and marketing objectives, skillfully capturing it all in a tightly-packed piece of writing. They're masters of language with expertise in connecting with readers and directing traffic to your website, always keeping the end goal in mind: driving revenue.
If you're reading this, you've probably already identified a need for copywriting. Perhaps your team feels overwhelmed by the idea of adding copywriting to their to-do lists, or maybe you want the know-how of a writer who's spent years honing their craft. Whatever the reason, you're in the market for a copywriter.
So, is it time for you to invest in copywriting services?
Here's everything you need to know when deciding if copywriting services are right for you.
What's the difference between copywriting and content writing?
First, we need to differentiate between copywriting and content writing. The two terms are often used interchangeably, but they aren't the same thing. The intent behind each kind of writing varies.
The common types of copywriting include:
Website copy and landing pages
Product descriptions and ecommerce
Email marketing
Video scripts
Press releases
Ads
Social media
Copywriters focus on forms of copy that are intended to connect with an audience and invite them to take action. Think of the last social media post that caught your eye or the ad that made you do a double take. Both were written by a skilled copywriter who successfully caught your attention.
Content writing includes blogs, newsletters, infographics, case studies, ebooks, and white papers—basically anything that should inform your audience. Content writers aim to educate your readers about a topic or solution. If you've built a product to solve a problem in your industry, the content's job is to teach your audience about your solution and connect with them on shared pain points. It positions you as a knowledgeable and trustworthy expert in your industry.
In short, copywriting is meant to persuade or sell to your target audience, while content writing aims to inform your audience. You can expect many copywriters to have skills in both areas.
How much do copywriting services cost?
The cost of copywriting services depends on the copywriter's experience and expertise. There are thousands of copywriters out there who charge a wide range of fees for their work. Here's a general rule of thumb: when it comes to copywriting, you get what you pay for.
That is to say, the best copywriters charge higher rates than those with a less impressive skill set or who are just starting out. Understanding your budget is vital to meet a skilled copywriter in the middle. Once you have a budget dialed in, you can set realistic expectations for what you want a copywriter to accomplish and start looking for a writer that works within your budget.
Answer these questions for determining what to pay for copywriting services:
How soon do you need the copy?
Is the copywriter familiar with search engine optimization (SEO) copywriting?
Do you want to pay per word, per project, or another model?
How many years of experience does the copywriter have?
What is the copywriter's area of expertise?
How much research do your projects require?
Use the answers to these questions as guiding principles when working out a contract with your copywriter. The best relationships between the companies outsourcing work and copywriters are the ones where both parties have the same expectations and communication is clear.
Just one more thing—remember that what you get from hiring a copywriter goes beyond the cost and the deliverable. You're getting an expert in their field whose copy will boost your company's brand awareness and meet your audience where they are. A single piece of copy (assuming it's well-written and strategic) can be multi-functional–it tells a story, connects with your audience, and sells your product or service.
Should you work with a freelancer or agency?
Freelancers and agencies work on different fronts. Freelance copywriters are ideal when you already understand your marketing strategy, objectives, and how copywriting services will support your initiatives. You're able to clearly communicate expectations to the freelance copywriter so they can successfully write copy that meets your precise marketing needs. Freelancers use their unique skills to provide deliverables based on a strategy that has already been refined and proven effective.
In most cases, an agency offers a wide spectrum of services, whereas a freelancer specializes in just one. Their services are best utilized when you know you need copywriting services and optimization to drive business growth but need assistance in developing the exact strategy for executing the tasks. Most agencies have in-house writers, editors, and strategists who combine their skills to create a cohesive content strategy for you. The best content marketing agencies take a holistic approach, focusing on how each piece of copywriting contributes to the overall marketing goals.
What are the benefits of good copy?
A good piece of copy hits multiple marks. As the person bringing copywriting into your marketing strategy, it's your job to convey the benefits of good copy.
We've covered what a copywriter specializes in and what to expect when budgeting for one. Now, let's dive into the markers of good copy.
Provides measurable results
All the thoughtful and strategic work you put in behind the scenes boils down to one huge goal: drive revenue. The looming question on every marketer's mind is how copywriting helps this. Luckily, there are concrete, measurable results from investing in copywriting services. You can draw a correlation between boosted website traffic due to a stellar email campaign and the leads generated as a result. These are concrete pieces of data that you can use to see the measurable impact of copywriting efforts. A skilled copywriter will have a good understanding of SEO copywriting.
Builds a relationship with your audience
Here is one of the more objective benefits of copywriting. Copy is meant to strike a chord with your audience—the more your story resonates with them, the more likely they are to remember your brand. You want your audience to feel like you understand them, which is why your product or service is the solution for them. As the company that best understands their pain points, you have the best solution for solving their problems and making their day-to-day life a little bit easier. This relationship is built on brand-reader trust and reliability, and it can be done by using precise language.
Sets you apart from your competitors
How to differentiate your product or service from your competitors is the age-old question. Before you set out to develop your marketing strategy, you should know how you're going to position yourself in the market and the story you're going to tell. Be clear about how to support the claim that your solution is the right one. A copywriter takes this information and spins up writing that sells this message. They ensure that every word of copy calls back to your central message, thus securing your place in the market and setting you apart from competitors.
Raises brand awareness
Brand awareness is tricky. Most people (who don't work in marketing) don't spend much time thinking about brands and their branding effectiveness. The impact your brand has on your audience happens much more subtly. Little by little, your presence and engagement in the place where your target audience hangs out online will leave an impression. What do you want your audience to associate with your brand? Think about the impression you want to make on your reader. Copywriting can be the bridge between your brand and audience to make this happen.
Communicates the value of your product or service
Where content writing educates, copywriting sells. Copywriting succinctly and clearly expresses the value of your product or service. It casts a line saying, "hey, my product is really good, and here's why you should try it," and hopes the reader bites. It's not enough to make your audience aware of your brand—you have to explain to them how you can directly help them. How will your service or product meet their needs and make their lives a bit simpler?
If you want to dive deeper, product-led content is one of the simplest ways to quickly educate your audience on the value of your product. This type of writing would most likely fall within the wheelhouse of a content writer or content marketing agency.
Is hiring a copywriter worth it?
A well-written piece of copy can accomplish a lot for your business, SEO, and digital marketing strategy. Take these factors into consideration when deciding if a copywriter will help you hit your goals.
Save you and your team time
Investing in copywriting services removes the writing from your and your team's task lists. You've enlisted a professional writer, so you can focus on the areas of the business where you have expertise. You can earn time back in your day to focus on building a great company or take a walk around the block to enjoy a sunny afternoon. Think about how much time you spend brainstorming, writing, and editing. It would likely take a copywriter a fraction of the time it takes someone who doesn't specialize in copy.
If you still find that copywriting won't accomplish as much as you'd like, don't forget about content writing. Content writers, whether they're freelance or at an agency, are skilled at translating your goals into pieces of content designed to inform.
Look at your brand with fresh eyes
As an advocate for your brand, you know the brand inside and out. However, this might also mean you miss opportunities to flesh out your narrative more or offer your target audience a new angle on a familiar story. A copywriter enters the scene with a fresh perspective–they know what to look for when writing a brand's story. They might uncover a new angle or way of phrasing a message at the heart of your brand that resonates even more with your audience.
Save you money
Yes, copywriters cost money; however, it is money well spent when a single piece of content can generate many, many leads. Think of all the funds spent when non-copywriters are forced to spend precious time honing a skill that is not their expertise. Anything from web page copy to social media ads can be handled by a skilled copywriter. Their time and energy could be better spent capitalizing on the skills they have in areas they enjoy. Leaving the copywriting to the copywriters will save you money in the long run.
They'll assist with branding
Your company's story and copywriting go hand-in-hand. When you hire someone who writes for a living, they have a finely-tuned set of skills then lend to quickly producing high-quality content that captures your brand voice. It's in any good copywriter's wheelhouse to have a good understanding of your brand, voice, and tone. They understand how to translate this information from a content brief and their own research into an effective piece of copy. Writers are expert storytellers—they'll be able to tell your brand's story.
This doesn't stop with copywriters either. If you decide copywriting services don't fully encapsulate your brand, and you want more writing support, a content writer has similar skills in writing and branding that can support your team and objectives.
Should you invest in copywriting services?
Everything we've covered leads up to the final question: should you invest in professional copywriting services? The answer comes down to your exact needs. If you need to make an impression on your audience, carve out a space for yourself in your industry, and get more people exposed to your product or service, a skilled copywriter could be the golden ticket. On the other hand, if you want to connect with and educate your audience, a content writer might be the best option. Collaborating with a content marketing agency is one of the easiest ways to build out a comprehensive content strategy that ensures you hit your marketing goals.
Copywriting services are an investment, but they're an investment in more than just a piece of copy. When done well, a single piece of copy can generate leads and invite your audience to get to know you. Bringing on copywriting services is a highly personal decision. If done right, it can prove highly impactful. Copy is the bridge between your brand and your audience–copywriters make it happen.