Content analysis for SEO is an essential part of any successful search engine optimization (SEO) program.
It involves the careful study and evaluation of existing content in order to determine the best way to optimize it for search engines.
Content analysis can help you identify areas that need improvement, as well as opportunities to improve your rankings and organic traffic with tactical content updates. It's a core part of the content optimization process. 
What is SEO Content Analysis?
Content analysis is a process used by SEOs and content marketers to evaluate existing website content and determine how it can be improved in order to better optimize it for search engines.
The goal of content analysis is to identify areas where improvements are needed, as well as opportunities for optimizing the content for maximum visibility and conversion potential.
Content analysis involves looking at a variety of factors, including keyword density, readability score, internal linking structure, meta tags, backlinks, titles and headlines, and more.
By analyzing these elements carefully, you can begin to develop a comprehensive strategy for improving your content's performance in organic search results.
The 7 Best Content Analysis SEO Tools
Clearscope
Surfer SEO
Frase
GrowthBar
Ahrefs
MarketMuse
KeywordInsights.AI
1. Clearscope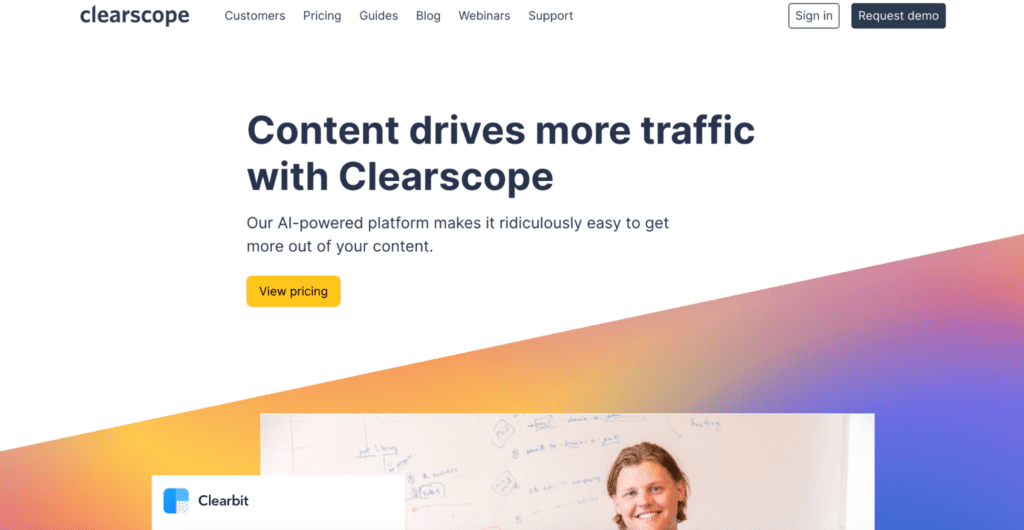 Clearscope is my go to content analysis SEO tool. 
Frankly, I find it the easiest to use and the most accurate in terms of its suggestions. It's main use case is to optimize on-page SEO signals, giving you a score to aim for (A++ is the best).
To do this, it reverse engineers the SERP for your target keyword and builds content recommendations for you, including word count, reading level, and specific related keywords to include.
I'll walk you through an example. You start by entering your target keyword: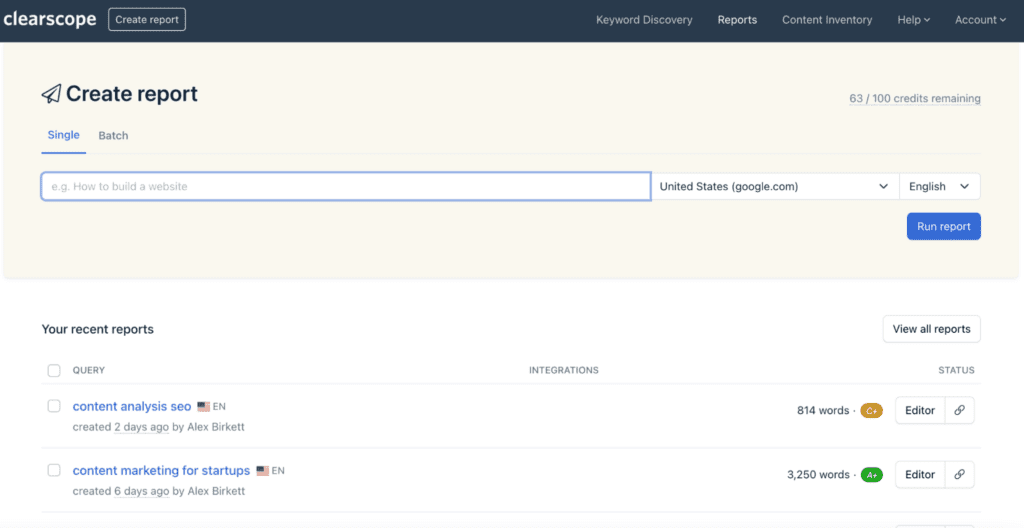 This then gives you a content outline based on the user intent of your keyword and what is currently ranking. Suggestions will include headlines and subheadlines, word count, and more.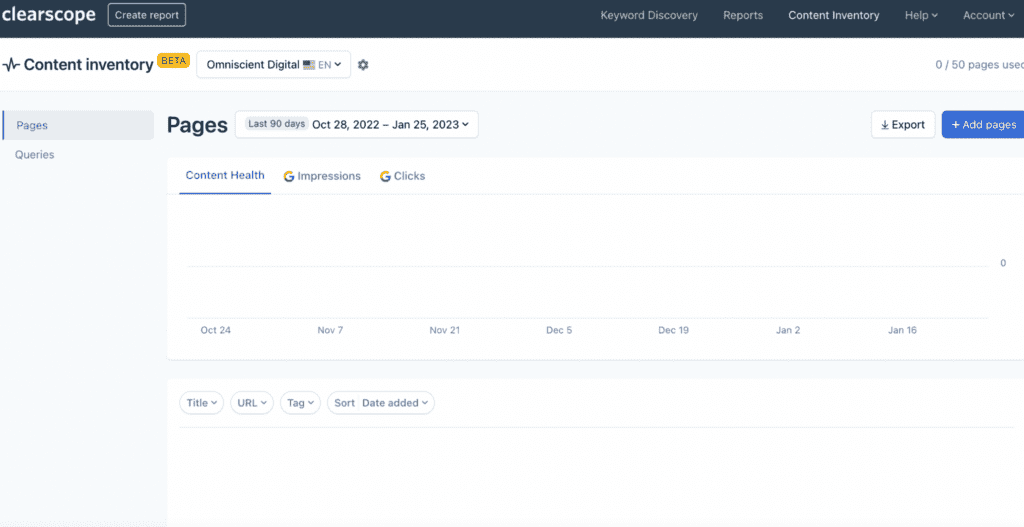 It weighs the keyword suggestions by importance, too.
Other features I like include their term map, where you can view a table of competitors and see which ones mention specific keywords in their content creation: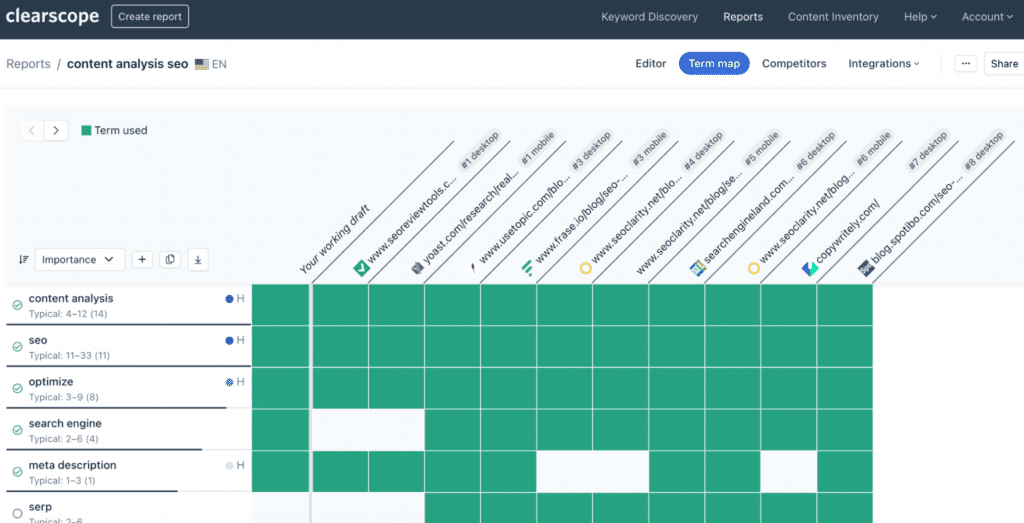 Finally, they have a content inventory tool that helps you monitor your web pages and proactively update them when your score falls. This is a great supplement to Google Search Console and Google Analytics, often allowing you to update content before your organic traffic drops.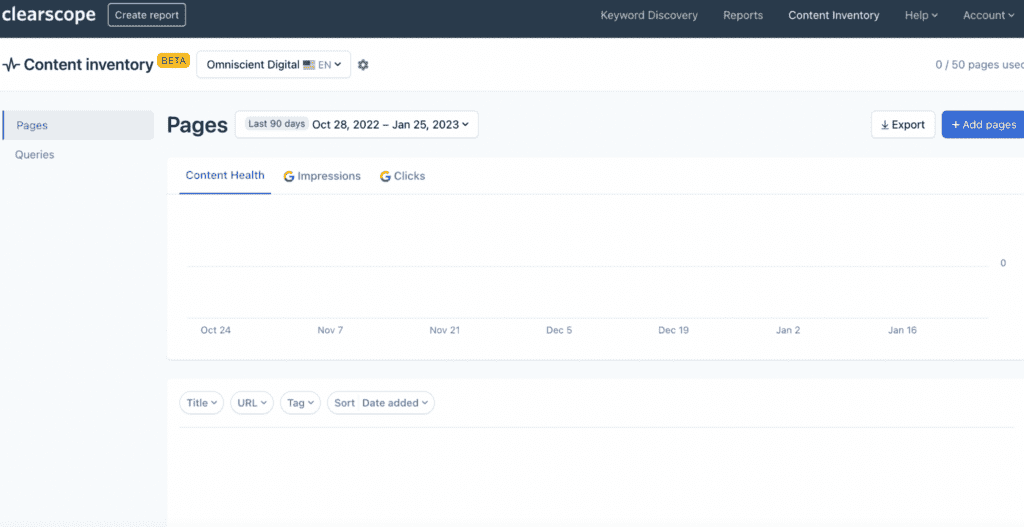 While it doesn't give you concrete recommendations on your title tag, meta description, or internal links, it will help you optimize an individual piece of content with the best chances of ranking for your target keywords. It's my go-to content analysis tool.
If you want something lighter weight that integrates with WordPress, the Yoast SEO plugin is a good option, though less powerful.
Price: Starts at $170/mo
G2 Score: 4.9/5
2. Surfer SEO
I'm a huge fan of Surfer SEO as well, which has a similar feature set to Clearscope with a few more bells and whistles.
One huge advantage to Surfer SEO is it integrates natively with Jasper, an AI content writing tool. This has massively sped up my SEO writing process. 
Like Clearscope, the core feature allows you to input a keyword and get a bunch of tactical on-page SEO recommendations to give it the best chances of beating the existing search engine results.
This content analysis tool also gives you a score, though it's based on a top score of 100 (I aim for about 80).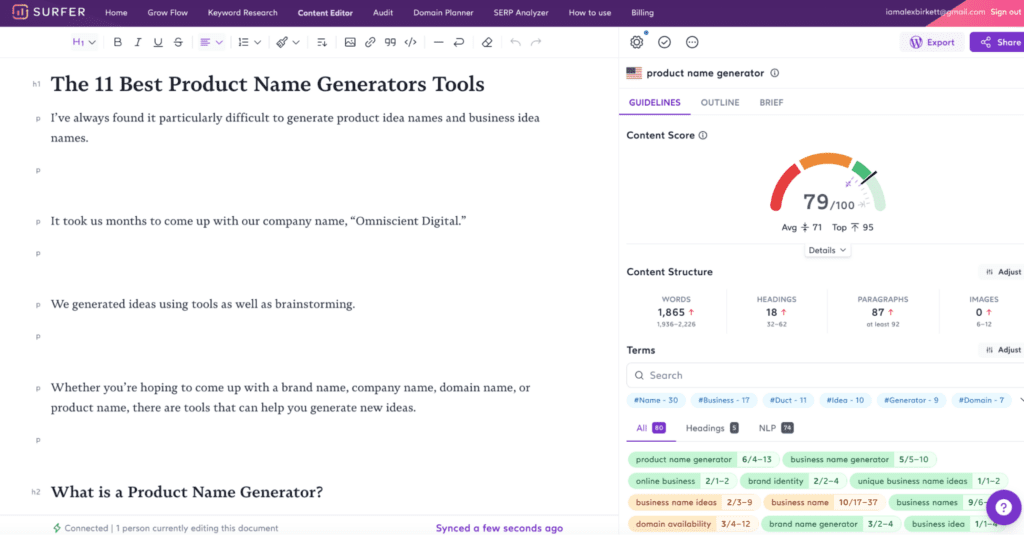 One new feature I've been enjoying is their Grow Flow project management tool. Every week, it gives you holistic recommendations for your website, including adding internal links, tweaking meta title copy, and identifying feature snippet opportunities.
This is a comprehensive product that fits well into an SEO-driven content strategy.
Price: $49 / month
G2 Score: 4.8/5
3. Frase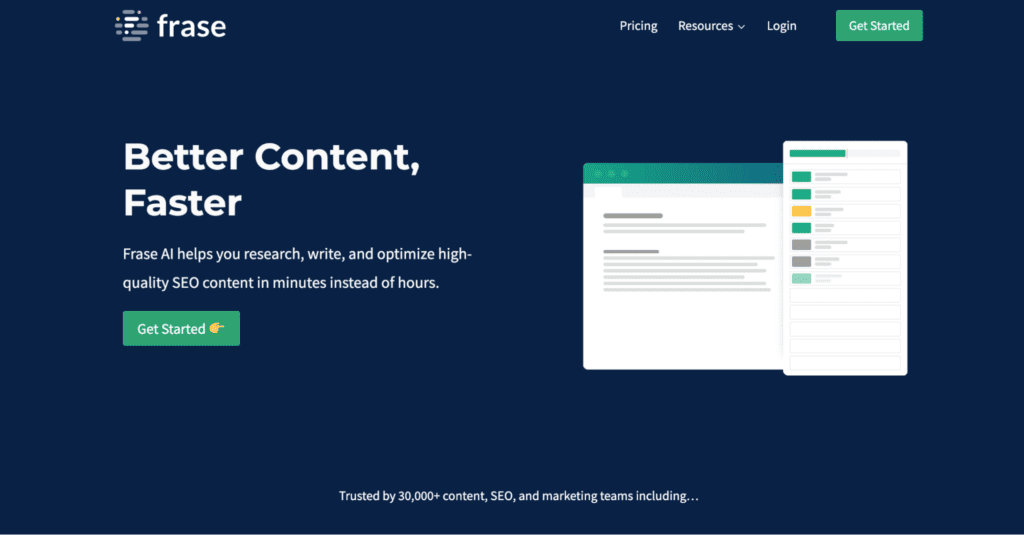 Frase.io is another great content analysis tool with a comprehensive feature set.
This one helps you do everything from content research, content briefs, and content outlines all the way through production and optimization.
They have a native AI writing functionality that helps you do everything from fill in details on long form blog posts to write page title copy and subheadings.
One of my favorite use cases of Frase is to do quick content research. It looks at a bunch of other articles on the same topic and gives me an overview or template of what they've already covered. Of course, I want to add my own unique spin to things. But this speeds up the process.
Price: $14.99/mo
G2 Score: 4.8/5
4. GrowthBar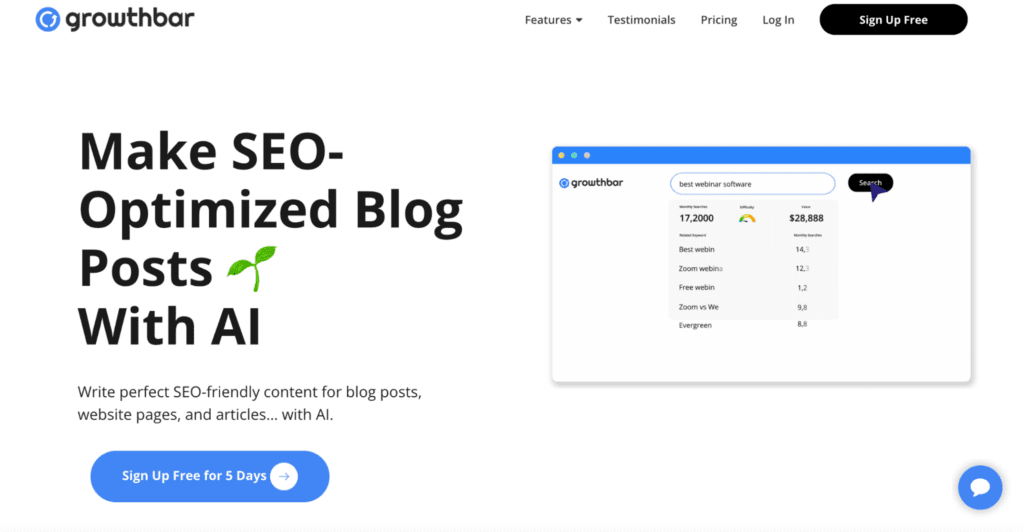 GrowthBar is a new SEO tool on the market, but try it and I bet you'll love it. 
It's an absolute dream hybrid of SEO and content marketing functionality.
Primarily, it's an AI content writing tool (with an eye for SEO), but they also have tons of core SEO features like keyword research, backlink analysis, competitor analysis, and content briefs / content optimization.
I use it as an audit tool, but also a production tool. Again, you can start with your focus keyword and build a good brief and create quality content with their AI generator. GrowthBar also gives you a content score to aim for with each piece.
They build more and more features every month. Lovely team and product. Note: no technical SEO features, but you can get those from the next few on the list.
Price: $29 /Month
G2 Score: 4.9/5
5. Ahrefs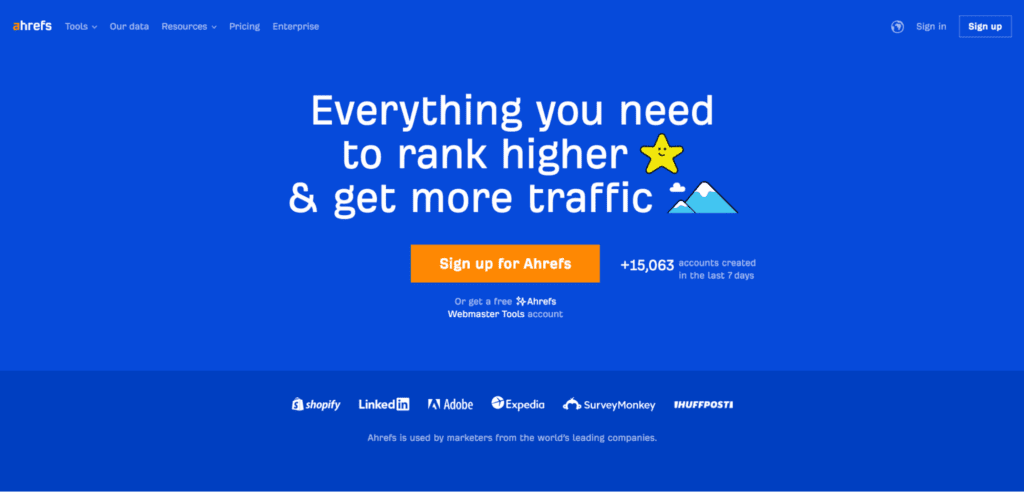 Ahrefs is the bread and butter of an SEO's toolkit. 
It's one of the most powerful and useful all-in-one SEO tools out there.
We use it for all of our client work, providing the foundations of keyword research and content strategy. It's also amazing as a backlink checker and audit tool, giving us technical SEO recommendations (nothing crazy comprehensive) as well as allowing us to build a map of competitors.
My favorite feature of Ahrefs is the content gap analysis. This allows me to see what competitive websites are ranking for that my website is not.
I also love their keyword explorer tool, especially the "questions" feature, which allows me to fill out FAQ modules as well as build comprehensive topic clusters.

Though it's a bit pricey, if you're a serious SEO or content marketer, you can't go wrong with Ahrefs. If you don't want to use Ahrefs, Semrush is a great alternative with similar features.
Price: Lite plan begins at $99 / month, but you'll run into limitations pretty quickly.

G2 Score: 4.6/5
6. MarketMuse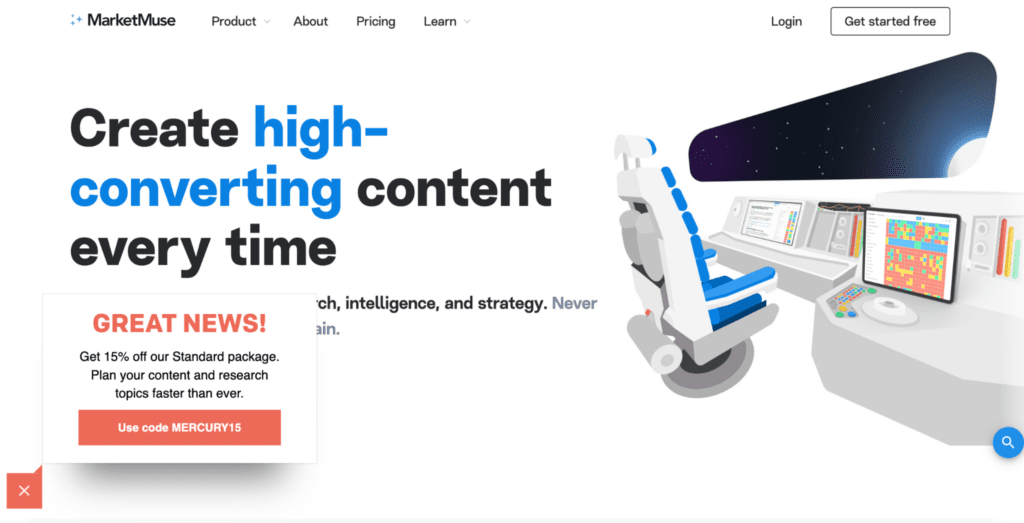 MarketMuse might be the O.G. content optimization software. 
Like Clearscope, Frase, and Surfer, they let you type in a focus keyword and it builds you a content brief with tons of suggestions and a content score to aim for.
I'll be honest, I've used MarketMuse a little bit less than the others. It's pricey, aimed at the enterprise – and while I've heard it's one of the most accurate, the marginal benefits haven't outweighed the costs for me.
Price: They have a limited free plan and then it's $600 /month
G2 Score: 4.6/5
7. KeywordInsights.AI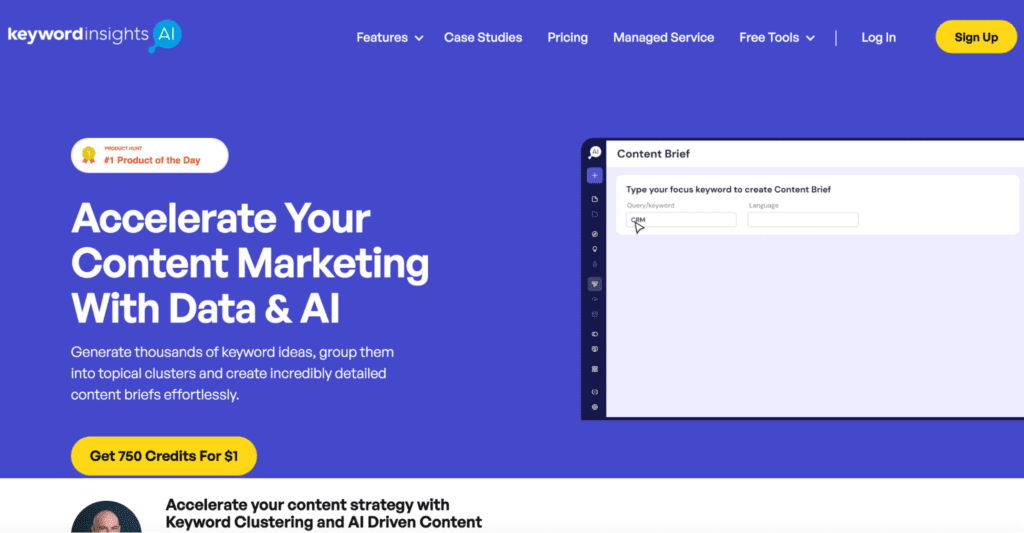 Finally, we have Keyword Insights. I just discovered this tool a few months ago, but I love it. 
It serves a much different purpose than the other tools here, mostly in service to content strategy and research.
Particularly, it's great at using AI to do keyword research and content clustering. It can also map each topic to the user intent of the term, helping you prioritize and create content.
How to Analyze Content for SEO?
Content analysis for SEO always maps back to your goals: how can you drive more revenue with your content?
Generally, that's going to be through increasing traffic (increase rankings, write new content, or increase click-through-rates) or increasing conversions (this is more conversion rate optimization).
To increase traffic, try incorporating these methods into your content analysis process:
1. Analyzing Keywords & Search Intent
One of the most important elements of content analysis is keyword research.
Keywords are words or phrases that people use when searching online; they are what drives traffic from organic search results into your website.
When performing keyword research, it's important to look at both short-tail (one or two words) and long-tail (three or more words) keywords. Analyzing these keywords will help you determine which ones are most likely to bring relevant traffic into your website—and therefore should be optimized accordingly.
Analyzing keywords can also reveal new opportunities that you may not have considered before; by looking at related topics or phrases that people are already searching for, you can come up with new ideas for creating valuable content around topics that may not have been on your radar previously.
2. Improving Readability Score
Another important factor in content analysis is readability score; this measures how easy it is for someone to understand written text based on sentence structure and word choice.
Readability scores provide a useful metric for determining if existing content needs improvement in order to make it easier for readers—and potential customers—to understand what's being said.
This can be especially beneficial if your target audience consists of people who don't have an extensive knowledge base; by making sure all of your written pieces pass muster with a readability score calculator like the Gunning Fog Index or Flesch-Kincaid Grade Level test, you'll ensure they're accessible enough even for those who aren't familiar with industry jargon or technical terms.
Optimizing readability tends to improve the user experience of your content, which tends to improve both traffic and conversions.
3. Improve Backlink & Internal Link Profiles
Another important aspect of content analysis is looking at the backlink and internal link profiles.
Backlinks are links from other websites pointing to your own; they can be an effective way to boost organic search rankings, as well as build trust in the eyes of potential customers.
Similarly, internal links—links that point from one page on your website to another—can help to keep people on your site longer and increase the likelihood of them converting into customers.
By analyzing both backlinks and internal links, you can identify opportunities for improving these profiles in order to maximize both organic search rankings and conversion potential.
4. Optimize Click-Through-Rates
Finally, content analysis can also be used to optimize click-through rates (CTRs).
CTRs measure how often people actually click on a link or piece of content that appears in organic search results.
This is an important metric to consider when optimizing content for SEO; by creating titles and meta descriptions that are attention-grabbing enough to entice users to click, you can increase the likelihood that more people will actually visit your website.
Additionally, optimizing for CTRs can also provide valuable insights into what types of titles and descriptions work best with the audience; by testing different versions and comparing their performance, you can improve your overall SEO strategy going forward.
Conclusion
Content analysis is an integral part of any successful SEO campaign; it helps identify areas where improvements are needed as well as new opportunities that could potentially boost rankings significantly over time.
It involves researching keywords and measuring readability scores in order to create well-optimized pieces that appeal both to readers and search engine algorithms alike—ultimately giving them the best chance possible at achieving success in organic search results pages.